FOR IMMEDIATE RELEASE
Dec. 8, 2017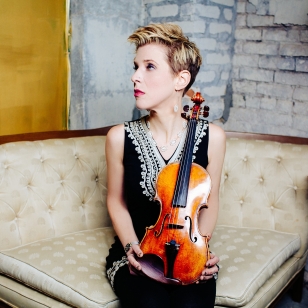 BLOOMINGTON, Ind. – And this year's Jacobs School Grammy nominations go to—jazz violinist Sara Caswell and audio engineer Laura Sisk, alumnae of the Indiana University Jacobs School of Music.
Born in the aftermath of the infamous Blizzard of 1978, when IU closed its Bloomington campus for the first time in recorded history, Bloomington native Caswell is stirring up a different storm now with her nomination in the Best Improvised Jazz Solo category for the track "Can't Remember Why" from "Whispers on the Wind" by Chuck Owen and the Jazz Surge.
While Caswell performed on Roseanna Vitro's "The Music of Randy Newman," which was nominated for Best Jazz Vocal Album in 2012, this is her first nomination as a solo artist, and she is the youngest nominee in the Best Improvised Jazz Solo category. Additionally, she is vying to become the first female in Grammy history to win this category, which dates back to the 15th Grammy Awards, in 1972.
"I'm honestly still in disbelief about receiving a nomination," said Caswell. "The thrill of being recognized, the honor of being in the company of the other nominees, the good fortune I had in having musical mentors like David Baker and Josef Gingold in my life, and the gratitude for the love and support so generously given by friends and family over the years that have made this moment possible—I feel amazingly lucky!
"Working with Chuck Owen on 'Whispers on the Wind' was an incredible experience. In addition to his brilliance as a composer and arranger, his ability to incorporate the violin into a big band as an essential 'horn' is extraordinary. The album is now up for four Grammys: Best Large Jazz Ensemble Album, Best Instrumental Composition, Best Arrangement and Best Improvised Jazz Solo. It's an incredibly exciting time for him and the entire band."
Caswell graduated from the Jacobs School of Music in 2000 with a Bachelor of Music in Violin Performance and a Bachelor of Music in Jazz Studies, while earning her Artist Diploma in Violin Performance from the school in 2002.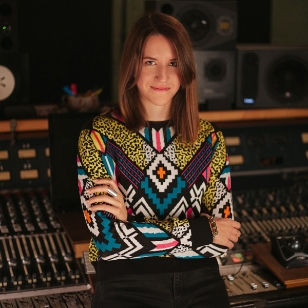 Twenty-eight seems to be Sisk's lucky number this year, with the news of being nominated for her engineering skills on Lorde's smash-hit "Melodrama," in the Album of the Year category, coming on her 28th birthday, Nov. 28.
"I'm absolutely honored to be nominated for Album of the Year, alongside Lorde and Jack Antonoff," said Sisk. "The experience I gained during my years at IU in the Audio Engineering and Sound Production Department has continued to be instrumental in my ability to grow and develop as an engineer. I'm so grateful for my time spent with such inspiring and wonderful professors and peers."
Sisk won her first Grammy Award in 2016, for her engineering work on Taylor Swift's "1989" release, also in the Album of the Year category.
Sisk earned a Bachelor of Science in Recording Arts from the Jacobs School of Music in 2010, along with an emphasis in informatics and a minor in Spanish, after being accepted into the program as a Barbara and David Jacobs Scholar. She is now a freelance recording engineer in Los Angeles and New York, and has worked with platinum-selling artists including Taylor Swift, Shakira and P!nk, and critical favorites including Portugal, The Man, Phantogram and tUnE-yArDs.

The 60th annual Grammy Awards will be presented live by the National Academy of Recording Arts & Sciences on Sunday, Jan. 28, in New York City and broadcast on CBS.
Offering more than 1,100 performance events annually, including six operas and three ballets, the Indiana University Jacobs School of Music plays a leading role in educating performers, scholars, composers, music educators and audio engineers around the globe. Its 180 full-time faculty members include performers, scholars and teachers of international renown.


MEDIA CONTACT
Linda Cajigas
Assistant Director of Communications
IU Jacobs School of Music
812-856-3882
lcajigas@indiana.edu