FOR IMMEDIATE RELEASE
Oct. 13, 2017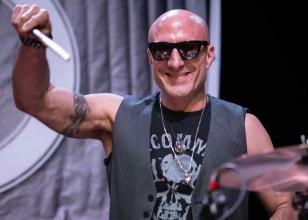 BLOOMINGTON, Ind. – World-renowned drummer and percussionist Kenny Aronoff will present workshops for Indiana University Jacobs School of Music students and participate in a public "meet and greet" session during his visit to his alma mater next week.
Aronoff has played on over 60 Grammy-nominated recordings, with 1,300 gold, platinum and diamond certified records, and has performed on more than 300 million records sold worldwide. He was named the number one pop/rock drummer and the number one studio drummer for five consecutive years by readers of Modern Drummer magazine.
Jacobs School of Music and IU students are invited to register to attend Aronoff's entrepreneurship session, An Evening with Kenny Aronoff, at 7 p.m. on Oct. 20 in Room 066 of the Musical Arts Center. The legendary rock drummer's presentation will be based on his Business Rock Star method of Preparation, Performance and Persistence. The session is sponsored by the school's Office of Entrepreneurship and Career Development, and students may register through the Career Portal.
The general public is invited to interact with Aronoff from 10 a.m. to 11:30 a.m. on Oct. 21 in the Musical Arts Center's Room 066 in an informal meet and greet sponsored by the Jacobs' Percussion Department and Entrepreneurship and Career Development's Project Jumpstart.
Following the public event, all Jacobs School students are welcome to attend the private drum set session Aronoff will offer to Jacobs percussion majors in Room 066.
"The Jacobs School of Music percussion faculty and students are thrilled that legendary drummer Kenny Aronoff will be returning to his alma mater next week," said John Tafoya, chair of the Percussion Department. "Kenny is enjoying an incredible career in the music business, and we can't wait to hear what he has to share with all of us. It means so much to our students to be able to learn from and interact with one of the most successful musicians working today, in any field. He is truly an inspiration."
One of the world's most influential and in demand drummers and percussionists, Aronoff was cited by Rolling Stone magazine as one of the "100 Greatest Drummers of All Time." The list of artists he's worked with on the road and/or in the studio reads like a who's who of the music industry, including John Mellencamp, the Rolling Stones, Paul McCartney, Ringo Starr, Elton John, Lady Gaga and many others. His winning approach to drumming and to life has given him the ability to sustain an extraordinarily successful career for more than three and a half decades.
Aronoff said the values and skills he learned at the Jacobs School of Music are invaluable to his success. "I still have the same work ethic the school helped me develop. I used to stay at the school's practice facilities until it was late, and I was kicked out. So I would try and sneak into the bathroom to hide then come out to practice after hours. Jacobs gave me the foundation I needed to take the ball and run with it."
.
"For a while, I didn't know what the purpose of the drummer's role was," said Aronoff. "I learned it is to get the artist's song recorded and on the radio to be number one. I learned it is to be a team player. Everything you do should be for the team. At school, it was all about 'me,' I didn't know about 'us' yet.
"It's not just about playing drums, it's about being a problem solver. You must identify the problem and solve it immediately. It's about your ability to get along in a room filled with egos and get the job done. Know what your purpose is. Be positive. More than your talent is keeping your employed and rehired. It doesn't matter how many records I have played on, I am still in the service business."
The Jacobs School of Music Percussion Department includes internationally renowned faculty members Kevin Bobo, Steve Houghton, Michael Spiro and John Tafoya. Located in the new East Studio Building, the department enjoys four large faculty percussion studios, four dedicated teaching assistant offices/studios, 15 percussion practice rooms and dedicated storage for its vast inventory of equipment.
Jacobs percussion students enjoy a variety of performance opportunities, including five symphony orchestras; opera and ballet orchestras; three concert bands; marching band; percussion, steel pan and hand drumming ensembles; jazz big bands and jazz combos. Each year one jazz studies percussion major is the recipient of the Aronoff Percussion Scholarship, given for outstanding musical achievement.
Established in 2014, the Jacobs School's Office of Entrepreneurship and Career Development supports students as they prepare for innovative and sustainable professional lives through advising, education programs, resource development, project support and mentoring.
The Jacobs School of Music regularly hosts world-renowned artists who are masters in their fields to work directly with its students, providing cutting-edge insights from their real-world experience.
MEDIA CONTACT
Linda Cajigas
Assistant Director of Communications
IU Jacobs School of Music
812-856-3882 | lcajigas@indiana.edu