What: Jazz Celebration, featuring Vince Mendoza
When: 8 p.m., Saturday, April 20
Where: Musical Arts Center, 101 N. Jordan Ave., Bloomington
Tickets: Reserved seating tickets available from the Musical Arts Center box office, 812-855-7433, 11:30 a.m. to 5:30 p.m. Monday through Friday, or online. $10-$15 non-students, $5 students with ID.
Video Streaming: Live-streamed via IUMusic Live!
FOR IMMEDIATE RELEASE
April 16, 2019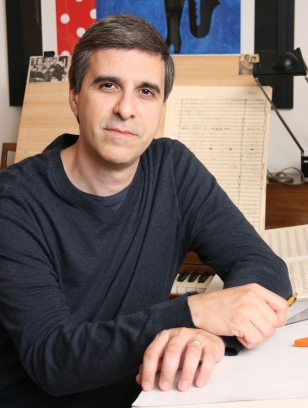 BLOOMINGTON, Ind. – Renowned conductor, composer and arranger Vince Mendoza, a six-time Grammy Award winner—and 33-time nominee—will be the featured artist in this year's Jazz Celebration from the Indiana University Jacobs School of Music at 8 p.m. on Saturday, April 20, in Bloomington's Musical Arts Center.

Mendoza will conduct the IU Jazz Ensemble big band followed by the 60-piece Studio Orchestra in a program of music composed primarily by him, combining jazz, Brazilian, Latin American, classical and pop music influences.

In addition to featuring Jacobs School of Music student soloists, including vocalist Elena Escudero, the school's annual celebration of America's original art form will also spotlight Indianapolis saxophonist and Jacobs alumnus Rob Dixon.

The prestigious 2019 BMI Foundation David N. Baker Jazz Composition Scholarship Award, for artistry, originality and capacity for musical expression through composition, will be awarded. This year, the honor goes to Jacobs student Matthew Waterman, and his composition "What's that blue light in the back of the mirror?" will be performed.

David Brent Johnson, host of WFIU's "Just You and Me" and "Night Lights" jazz programs, will emcee the festivities, which are part of April's Jazz Appreciation Month.

One of the most versatile and prolific conductor-composer-arrangers of the last 20 years, Mendoza has written arrangements for a wide variety of pop and jazz artists, from Joni Mitchell, Sting, Melody Gardot, Elvis Costello and Bjork to Joe Zawinul, John Scofield, Charlie Haden, Al Di Meola, Dave Liebman, Randy Brecker, the Yellowjackets, the GRP All-Stars and many others.

Mendoza is composer-in-residence with the West Deutsche Rundfunk in Koln. He is also conductor laureate of the Netherlands' Metropole Orkest, of which he was chief conductor for nine seasons.

Reserved seating tickets, $10-$15 for non-students and $5 for students with ID, are available from the Musical Arts Center box office 11:30 a.m. to 5:30 p.m. Monday through Friday or online.

The event will be live-streamed via IUMusic Live!

Jazz Celebration 2019 is sponsored by Old National Bank.


MEDIA CONTACT
Linda Cajigas
Assistant Director of Communications
IU Jacobs School of Music
812-856-3882 | lcajigas@indiana.edu