FOR IMMEDIATE RELEASE
March 28, 2019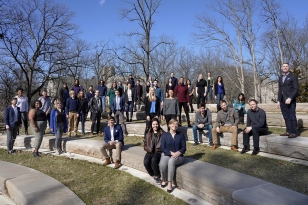 BLOOMINGTON, Ind. -- NOTUS, the Indiana University Contemporary Vocal Ensemble, from the Jacobs School of Music, has been selected to perform at the 12th World Symposium on Choral Music in Auckland, New Zealand, in July 2020.
 
The World Symposium on Choral Music is the peak global event of the International Federation for Choral Music, its own "Olympics" and world congress rolled into one. Bringing together the leading choirs, conductors, composers and administrators from around the globe for concerts, seminars and workshops, the symposium has become a public showcase for the best the choral world has to offer.
 
Nearly 180 choruses, from 44 countries, applied to perform at the 2020 symposium, and NOTUS is one of only 24 choirs worldwide to receive an invitation.
"The Jacobs School of Music is proud of the invitation extended to NOTUS in recognition of the artistic achievement of the ensemble and its director, Professor DiOrio," said Gwyn Richards, David Henry Jacobs Bicentennial Dean. "This accolade is affirmation of the growing recognition of the preeminence of our choral programs and its faculty."
"This is an exceptional invitation, a thrilling opportunity for Jacobs students and a genuine honor," said Betsy Burleigh, Thomas R. Kasdorf Professor of Choral Conducting and chair of the Choral Department. "There is no other international organization for choral musicians, so the significance of this invitation from the International Federation of Choral Music can't be overstated. Only 24 choruses, from around the world, have been chosen to perform."
Comprised of 30 students, NOTUS is unique among collegiate vocal ensembles, embodying a singular commitment to champion the music of living composers through the performance and recording of new choral works. Conductor-composer Dominick DiOrio, associate professor of choral conducting, has directed the chorus since 2012.
As an invited ensemble, the group will sing in at least two concerts, with musical programs that reflect the symposium's theme, "People and the Land" ("He tangata he whenua"). The expression tangata whenua is the name the indigenous Maori of New Zealand use for themselves and a concept that sits at the heart of New Zealand culture. The tangata whenua are guardians of our natural resources, environment and sustainability—values and priorities shared throughout New Zealand, regardless of race.
 
NOTUS has performed across the nation, from regional and national conferences to Carnegie Hall. In September 2018, the group released its first commercial album, "NOTUS: Of Radiance and Refraction," on the Innova label to substantial acclaim: "mature and assured, even as [they] navigate a thorny array of styles" (Choral Journal) and "compelling and attractive … superbly performed and recorded" (Fanfare).
 
Originally founded in 1980 as the Indiana University Contemporary Vocal Ensemble, NOTUS was renamed in 2013 after the selection of DiOrio as its fourth director. (The choir's new name was inspired by Notos, the Greek god of the south wind.) Previous directors include Alan Harler (1980-81), Jan Harrington (1981-1992) and Carmen Helena Téllez (1992-2012).
 
"This invitation is one of the greatest honors a chorus can receive," said DiOrio. "I have every confidence that our students will represent the very best of what it means to be a citizen of the Jacobs School of Music, of Indiana University and of our global musical landscape. They will return from this experience changed, as they will have moved hearts across the world with their song."

MEDIA CONTACT
Linda Cajigas
Assistant Director of Communications
IU Jacobs School of Music
812-856-3882 | lcajigas@indiana.edu