WHAT: "Dialogues of the Carmelites" by Francis Poulenc
WHEN: 7:30 p.m. Oct. 12, 13, 19, 20
WHERE: Musical Arts Center
TICKETS: Purchase tickets at the Musical Arts Center box office from 11:30 a.m. to 5:30 p.m. Monday through Friday, by phone at 812-855-7433 or online at music.indiana.edu/opera. A discounted price is available for all students.
VIDEO STREAMING: Via IUMusicLive! Oct. 12-13 only.

FOR IMMEDIATE RELEASE
Oct. 11, 2018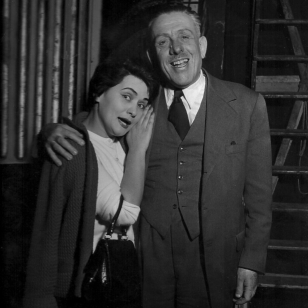 BLOOMINGTON, Ind. – There will be much more going on than meets the eye, and ear, during the Indiana University Jacobs School of Music Opera Theater production of Francis Poulenc's "Dialogues of the Carmelites" at 7:30 p.m. Oct. 12, 13, 19 and 20 at the Musical Arts Center.

While the story onstage, based on the incredible true journey of a group of nuns during the French Revolution's Reign of Terror, is well known, there is another, behind-the-scenes, story that is much less so—but very worth noting.

When Virginia Zeani, a superstar soprano for 34 years before joining the voice faculty at the IU Jacobs School of Music, first met French composer Poulenc, in Paris in 1956, she was not impressed: "I thought he was a frivolous person," she said in her memoir, "My Memories of an Operatic Golden Age."

And when Poulenc asked her to perform in his new opera, "Dialogues des Carmélites," she was unsure and asked to read the score. However, he was not and convinced her to sing the part of Blanche, the primary role, sight unseen. After finally reading it, she said, "I was not at first enthusiastic. In fact, I was overwhelmed by what I had to do."

Not exactly an auspicious beginning.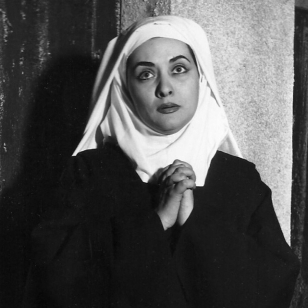 A short time later, "Dialogues" made its world premiere at the fabled La Scala, in Milan, on Jan. 26, 1957. Zeani recalled, "The applause at the end was like a huge wave. We were crying, all of us." The performance earned a standing ovation and 20 curtain calls before the star sped away on the arm of Tyrone Power to a party glittering with other luminaries, including the legendary Maria Callas.

Now, that's more like it.

Zeani went on to reign as prima donna assoluta at the Teatro dell'Opera in Rome for 25 years. She sang 69 leading roles and is especially known for her interpretation of Violetta in "La Traviata," which she sang more than 600 times. She is the recipient of more than 30 awards and orders of merit, and was named Teacher of the Year by Classical Singer magazine in 2010.

She and her late husband, famous basso Nicola Rossi-Lemeni, joined the Jacobs School of Music faculty in 1980, each eventually earning the title of distinguished professor. She retired from IU in 2004. Among her most famous former Jacobs students are Angela Brown, Sylvia McNair and Ailyn Pérez. McNair narrated a video honoring Zeani when she received the 2012 IU President's Medal for Excellence.

Another of Zeani's most successful students is soprano Marilyn Mims, who went on to her own international career, including eight roles at the Metropolitan Opera—during which time she won a Grammy—before becoming a voice professor at Palm Beach Atlantic University in West Palm Beach, Florida.

"What I learned about the Italian bel canto technique from Ms. Zeani not only helped me have an international singing career, but it has made all the difference in my career as a voice teacher," said Mims. "It changed my life forever."

The two forged a very close bond, with Mims later naming her daughter after her mentor. "I named my daughter after her and my biological mother; her full name is Virginia Louise, after the two most important women in my life," Mims explained. "Ms. Zeani is her godmother."

Carrying on the tradition, Virginia is now also a soprano voice student at the Jacobs School of Music, studying with Alice Hopper, yet another former Zeani student. "Zeani has been a part of my life ever since I can remember," said Virginia. "She now lives in the same city as my family and has been there ever since I was in elementary school, so I have great memories of her house and her hospitality. I call her 'nonna,' which means 'grandmother' in Italian. She was the closest thing I had to a grandparent most of my childhood."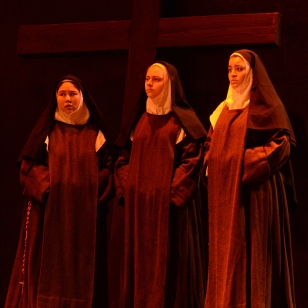 Continuing the legacy further, young Virginia is in the school's production of "Dialogues of the Carmelites," in the nuns' chorus. "I will forever hold this opera close to my heart since it seems so close to home," she said. "Every time I hear the Blanches in this production, I can hear and imagine my nonna's rendition of this complicated character. She must have been the most perfect Blanche."

"I am very happy that Virginia is in the nuns' chorus, being surrounded by the exquisite music of Poulenc's opera—hearing it, singing it and feeling it," said Zeani. "Because I know she will at some time have the opportunity to sing the role of Blanche herself."

Hopper also developed a close relationship with her former teacher. "I stayed in Zeani's home and assisted her with everything for 12 years, until she retired and moved to West Palm Beach," she said. "Marilyn, who then lived in Louisville, would come frequently to visit, and that's how we became good friends. Now, I teach her precious and extremely talented daughter, Virginia."

Zeani and Mims still get together a couple of times a week for "field trips" and no doubt will celebrate the Romanian-born opera icon's ninety-third birthday on Oct. 21—less than two weeks after her namesake's twenty-second birthday.

While Mims won't be able to see her daughter in person in this month's "Dialogues," she will be attending IU Jacobs School of Music Opera Theater's "Giulio Cesare" by Handel in February, when her daughter will play Cleopatra, another landmark role for Zeani. While making her debut at La Scala, as Cleopatra, Zeani sang opposite Rossi-Lemeni in the title role, and their lifelong love affair began.

"It will be a very special event in the lives of my two Virginias when my daughter sings the same role at IU with which her godmother has such a legacy and history," said Mims. "It will be an emotional event for us all!"

Tickets for "Dialogues of the Carmelites" may be purchased at the Musical Arts Center box office 11:30 a.m.-5:30 p.m. Monday-Friday, by phone at 812-855-7433 or online.

This Washington National Opera production, directed by the company's own artistic director, Francesca Zambello, also features conductor Rani Calderon and set designer Hildegard Bechtler, rounding out the high-powered international artistic team.


MEDIA CONTACT
Linda Cajigas
Assistant Director of Communications
IU Jacobs School of Music
812-856-3882 | lcajigas@indiana.edu