WHAT: "The Revolution of Steve Jobs"
WHEN: 7:30 p.m. Sept. 14, 15, 21, 22
WHERE: Musical Arts Center
TICKETS: Purchase tickets at the Musical Arts Center box office from 11:30 a.m. to 5:30 p.m. Monday through Friday, by phone at 812-855-7433 or online at music.indiana.edu/opera. A discounted price is available for all students.
VIDEO STREAMING: Sept. 14-15 only.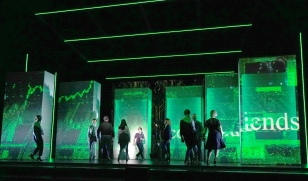 FOR IMMEDIATE RELEASE
Sept. 7, 2018

BLOOMINGTON, Ind. – Celebrating its 70th year, Indiana University Opera Theater, at the Jacobs School of Music, will open its 2018-19 season with the collegiate premiere of "The Revolution of Steve Jobs" at 7:30 p.m. next Friday, with additional performances Sept. 15, 21 and 22. The Sept. 14 and 15 performances will be video-streamed live via IUMusicLive!

Known as a devout Buddhist with a violent temper, a master of communication who could barely keep a personal connection and an adoptee who refused to acknowledge his own daughter, Jobs captured the imagination of the world when he changed the future of communication forever.

The opera by composer Mason Bates and librettist Mark Campbell, a Jacobs School of Music coproduction with the Santa Fe Opera, Seattle Opera and San Francisco Opera, sprang to life in July 2017 in Santa Fe. Several members of the artistic team from that world-premiere production are also helming the collegiate premiere by IU Opera: conductor Michael Christie, director Kevin Newbury and set designer Vita Tzykun.

"It's fun to come back to it a year later and see it with fresh eyes and reinvestigate it," said Newbury. "I've been pleasantly surprised at how much having a younger cast has revealed new things in the piece, and seeing the energy of two twenty-somethings playing Steve Jobs is really revelatory, actually, because the piece traverses time and space. You can imagine Jobs looking back on his life and deciding what memories he wants to take with him. Does he remember Woz when he was 50, or does he remember him when he was 20?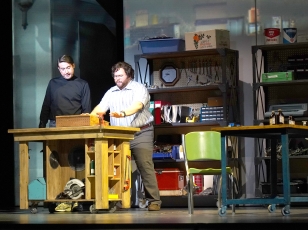 "The production is very cutting edge and takes what's possible on the stage to a whole new level," Newbury continued. "Like all of Apple's products, it's really a seamless integration of design and technology, like these perfect experiences that we hold in our hands, that we're all addicted to at this point. How do we create a production that mirrors that technology? How do we come up with a design that feels like it reflects the ethos of Apple and Steve Jobs?"
The opera's score is as cutting edge as the design and the man himself, combining technology and electronics with traditional vocal writing and orchestrations to create a unique soundscape. "Quicksilver textures in both orchestra and electronics, with the latter being built by samples of early Mac gear," says Campbell on his blog. "A panoply of Tibetan prayer bowls and Chinese gongs drift across the electronics, sometimes sounding purely 'acoustic,' sometimes imaginatively processed as if in a nirvanaesque limbo. Think of how eerily beautiful those sounds can sound when supporting the mystical textures of a low bass voice."

"The Jacobs School of Music and Indiana University Opera Theater are so proud to partner with Santa Fe Opera, Seattle Opera and San Francisco Opera on this new, groundbreaking work," said Timothy Stebbins, Ted Jones Executive Director of Production at the Musical Arts Center. "The entire artistic team, starting with composer Mason Bates and librettist Mark Campbell, have created an opera that, more than any other, truly targets a 21st-century audience. The music, story and production embody the sensibilities of a modern society and its struggles to meld the cold calculations of technology with the human emotions of the people trying to create, control and consume it."

Tickets for "The Revolution of Steve Jobs" may be purchased at the Musical Arts Center box office 11:30 a.m.-5:30 p.m. Monday-Friday, by phone at 812-855-7433 or online.


MEDIA CONTACT
Linda Cajigas
Assistant Director of Communications
IU Jacobs School of Music
812-856-3882 | lcajigas@indiana.edu