WHAT: IU Jacobs School of Music Concert Orchestra
BLOOMINGTON: 8 p.m. Sept. 5, Musical Arts Center
INDIANAPOLIS: 7 p.m. Sept. 8, Hilbert Circle Theatre
TICKETS: The Bloomington performance is free, and no tickets are required. Purchase tickets for the Indianapolis performance at indianapolissymphony.org, the Hilbert Circle Theatre box office or 317-639-4300.

FOR IMMEDIATE RELEASE
Aug. 31, 2018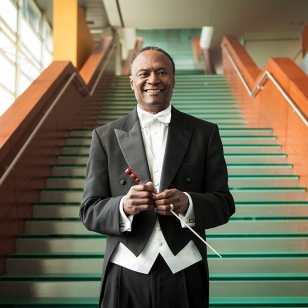 BLOOMINGTON, Ind. – Area audiences will have two opportunities to hear the Indiana University Jacobs School of Music Concert Orchestra perform next month.

One of the school's most elite ensembles, the 90-member orchestra will kick off its season at 8 p.m. Sept. 5 at the Musical Arts Center in Bloomington before performing the same program at 7 p.m. Sept. 8 at the Hilbert Circle Theatre in Indianapolis.

Thomas Wilkins, professor and Henry A. Upper Chair of Orchestral Conducting, will lead the student orchestra featuring Norman Krieger, professor and piano soloist for Bernstein's Symphony No. 2 for piano and orchestra ("The Age of Anxiety") (1949).

"August marks the 100th anniversary of Leonard Bernstein's birth, and 'The Age of Anxiety' is one of his great masterpieces," said Krieger. "I first heard the work live in New York with the New York Philharmonic under Bernstein's baton. It was so thrilling I went out and bought the score to learn it; that was back in the 1980s. I have since performed it many times around the world."

Additional repertoire includes Rossini's Overture to "La gazza ladra" (1817) and Respighi's "Fontane di Roma" (1916).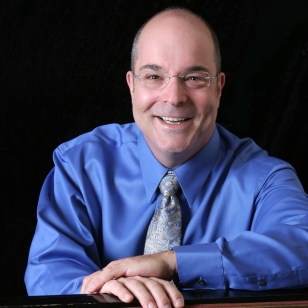 "Playing with an orchestra is like playing chamber music on a grand scale," said Krieger. "We all need to listen to each other, breath together, communicate and adapt to the acoustics of the hall and, in my case, the piano and how it projects in the hall. I try to use the hall as part of my sound world and how I can ideally engage with the sound."

The pair of performances will mark the first collaboration between Wilkins and Krieger, recent additions to the 180-member powerhouse Jacobs faculty roster, though they have known each other for decades.

"Our students are looking forward to the opportunity to perform in the city of Indianapolis, which has such a rich orchestral history, and in a professional venue as respected as the Hilbert Circle Theatre," said Gwyn Richards, David Henry Jacobs Bicentennial Dean. "What an experience for them to perform before new audiences and in a different home. In this Bernstein Centennial year, we are pleased to perform his 'Age of Anxiety' with our Concert Orchestra, featuring Jacobs faculty Norman Krieger and Thomas Wilkins."

A native of Los Angeles, Krieger served as professor of keyboard studies at the University of Southern California's Thornton School of Music from 1997 until his 2016 appointment at Jacobs. He regularly appears with the major orchestras of North America as well as with numerous prestigious international orchestras, collaborating with many of the world's finest conductors. He is the founding artistic director of The Prince Albert Music Festival in Hawaii, and since 2008, he has served on the summer faculty at the Brevard Music Center Festival in North Carolina.
Wilkins, a native of Norfolk, Virginia, is also music director of the Omaha Symphony through the 2020-21 season, a position he has held since 2005. In addition, he is principal conductor of the Hollywood Bowl Orchestra and holds the Germeshausen Family and Youth Concert Conductor chair with the Boston Symphony. Past positions include resident conductor of the Detroit Symphony and the Florida Orchestra (Tampa Bay), and associate conductor of the Richmond (Virginia) Symphony.
Watch Krieger explain more about "The Age of Anxiety."

No tickets are required for the free Bloomington performance. Tickets for the Indianapolis performance may be purchased at indianapolissymphony.org, the Hilbert Circle Theatre box office or 317-639-4300.


MEDIA CONTACT
Linda Cajigas
Assistant Director of Communications
IU Jacobs School of Music
812-856-3882 | lcajigas@indiana.edu