What: Jazz Celebration, featuring Todd Coolman, John Raymond, Walter Smith III, and Tierney Sutton
When: 8 p.m., Saturday, April 21
Where: Musical Arts Center, 101 N. Jordan Ave., Bloomington
Tickets: Reserved seating tickets available from the Musical Arts Center box office, 812-855-7433, 11:30 a.m. to 5:30 p.m. Monday through Friday, or online. $10-$15 non-students, $5 students with ID.
Video Streaming: Live-streamed via IUMusic Live!


FOR IMMEDIATE RELEASE
April 16, 2018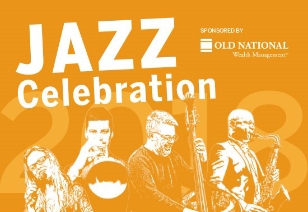 BLOOMINGTON, Ind. – The four newest additions to the Jazz Studies Department faculty at the Indiana University Jacobs School of Music will be featured in its annual Jazz Celebration, at 8 p.m. on Saturday, April 21, in Bloomington's Musical Arts Center.

Jacobs School alumnus and Grammy Award-winner Todd Coolman, bass; John Raymond, trumpet; Walter Smith III, saxophone; and Grammy-nominee Tierney Sutton, voice; will perform in big band numbers with the IU Jazz Ensemble, directed by Jacobs professor Brent Wallarab. The soloists will also join the Plummer Jazz Quintet for combo rhythms directed by Smith.

In addition, the BMI Foundation David N. Baker Jazz Composition Scholarship, for sustained achievement in writing for large jazz ensemble, will be awarded. This year, the honor goes to Brennan Johns, and his composition "Qualia" will be performed.

David Brent Johnson, host of WFIU's "Just You and Me" and "Night Lights" jazz programs, will emcee the festivities, which are part of April's Jazz Appreciation Month.

Coolman is a two-time Grammy Award winner who has toured and recorded with jazz legends Art Farmer, Stan Getz, Benny Goodman, Lionel Hampton, James Moody, Gerry Mulligan, Horace Silver, and numerous others.

Raymond was named a Rising Star in trumpet by DownBeat magazine, which also awarded his album "Real Feels" four-and-a-half out of five stars. He has released five CDs since 2012 and performs and teaches around the world. His latest album, "Joy Ride," was released in February.

Smith has appeared on more than 100 recordings and has toured the world with some of the most exciting players in contemporary jazz, including Ambrose Akinmusire, Christian McBride, Jason Moran, Bill Stewart, and many more. Smith's latest album, "TWIO," was released in February.

An eight-time Grammy nominee, Sutton has received a nomination for Best Jazz Vocal Album for every project she has released in the last decade. In 2016, her group, the Tierney Sutton Band—together for 25 years—was asked by Clint Eastwood to provide music for his hit movie "Sully."

Reserved seating tickets, $10-$15 for non-students and $5 for students with ID, are available from the Musical Arts Center box office 11:30 a.m. to 5:30 p.m. Monday through Friday or online.

The event will be live-streamed via IUMusic Live!

Jazz Celebration 2018 is sponsored by Old National Wealth Management.

MEDIA CONTACT
Linda Cajigas
Assistant Director of Communications
IU Jacobs School of Music
812-856-3882 | lcajigas@indiana.edu