FOR IMMEDIATE RELEASE
April 17, 2018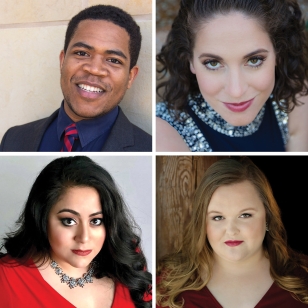 BLOOMINGTON, Ind. – Four of the 25 semi-finalists in the Metropolitan Opera National Council Auditions are from the Indiana University Jacobs School of Music. The semi-finals round will take place April 22 at the Metropolitan Opera House in New York City. Winners will advance to the Grand Finals Concert at the Met April 29.

Representing the Jacobs School are current students Terrence Chin-Loy, tenor, and Gretchen Krupp, mezzo-soprano, and alumni sopranos Monica Dewey and Marlen Nahhas.

"It's a banner year for the Jacobs Voice Department with four of our current students and recent grads in the Metropolitan Opera national semi-finals," said Mary Ann Hart, chair of the department. "All of them have turned in stellar performances in recent years in IU Opera Theater productions and have represented Jacobs in summer and full-year young artist programs at many prestigious venues. It's a testament to the all-around strength of the Voice Department that each of the four comes from a different studio. We are so proud of them and wish them each their best sing ever!"

The Metropolitan Opera National Council Auditions is a program designed to discover promising young opera singers and assist in the development of their careers. The auditions are held annually in 12 regions of the United States. There are 42 districts within these regions, each providing an opportunity for talented singers to enter the Auditions program at the local level.
The National Auditions Semi-Finals and Grand Finals Concert take place at the Metropolitan Opera each spring. At that time, the regional winners are brought to New York for musical preparation under the guidance of the Met's music staff. They then audition with piano before members of the staff. Those not selected as National Finalists will receive a cash award of $1,500.

All National Finalists will receive $5,000 and remain in residence at the Met for another week while continuing to coach with the artistic staff in preparation for the Grand Finals Concert with the Metropolitan Opera Orchestra.

During this final audition, they will compete before a public audience and a distinguished panel of judges for awards in the amount of $15,000. All travel and housing for participants at the national level are paid for and arranged by the Metropolitan Opera National Council.  

About the artists

Jamaican-American tenor Terrence Chin-Loy hails from Coral Springs, Florida. He is a Performer Diploma candidate studying with Heidi Grant Murphy at the Jacobs School of Music. This past season, he was seen as George Bailey in the IU Opera premiere of Jake Heggie's "It's a Wonderful Life" and as Edgardo in Donizetti's "Lucia di Lammermoor." This summer, he returns to Santa Fe Opera, where he will sing Brighella in "Ariadne auf Naxos." After the summer, Chin-Loy will join the Pittsburgh Opera Resident Artist program. He holds degrees from Mannes College of Music and Yale University. He was a winner in the Central Region of the Met Auditions.

Monica Dewey began the 2017-18 season with her debut at San Francisco Opera, singing Pousette in "Manon." She continued the season with a debut at Michigan Opera Theatre, singing Alice B. Toklas in Ricky Ian Gordon's "27." As the soprano studio artist at Michigan Opera Theatre, she worked alongside Gordon to prepare the production. In the summer of 2017, she made her professional debut, as Servilia in "La Clemenza di Tito" with Opera Theatre of Saint Louis. Dewey earned her Bachelor of Arts in Music and Arts Administration from the University of Kentucky and her Master of Music from the Jacobs School, where she studied with Patricia Stiles and Carol Vaness. Dewey was a winner in the Gulf Coast Region of the Met Auditions.

Mezzo-soprano Gretchen Krupp most recently sang Alisa in "Lucia di Lammermoor" with IU Opera Theater. This summer, she will be a young artist at the Glimmerglass Festival and will sing roles in Janáček's "The Cunning Little Vixen." She has also been engaged by the summer festivals at Wolf Trap Opera and Des Moines Metro Opera. Last season, she was a finalist in Houston Grand Opera's Eleanor McCollum Competition, culminating in the Concert of Arias. She recently earned her M.M. and is currently pursuing a Performer Diploma at Jacobs, where she studies with Jane Dutton. Krupp earned her B.M. from the University of North Carolina at Greensboro. She was a winner in the Central Region of the Met Auditions.

Lebanese-Mexican soprano Marlen Nahhas is currently a resident artist at Lyric Opera of Kansas City. She earned her B.M. at Oklahoma City University, where she performed principal roles in "La Traviata," "Les Contes D'Hoffmann" and "Dialogues of the Carmelites." She pursued her master's degree at the Jacobs School of Music, where she worked under the tutelage of Carol Vaness. There she performed VoMo in the world premiere of "The Tale of Lady Thi Kin," Rosalinde in "Die Fledermaus" and Cio-Cio San in "Madama Butterfly." Nahhas has been an artist with numerous summer festivals, where she covered several leading roles. This summer, she will join the San Francisco Opera in the prestigious Merola Opera Program. She was a winner in the Midwest Region of the Met Auditions.


MEDIA CONTACT
Linda Cajigas
Assistant Director of Communications
IU Jacobs School of Music
812-856-3882 | lcajigas@indiana.edu