FOR IMMEDIATE RELEASE
Nov. 17, 2017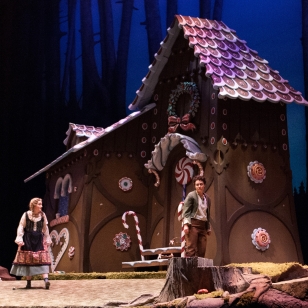 BLOOMINGTON, Ind. – Indiana University Opera Theater, at the IU Jacobs School of Music, will celebrate 70 years of presenting outstanding opera productions during its 2018-19 season. As part of its commitment to excellence, renowned artistic team members from throughout the profession will continue to work alongside its top-notch students.
Widely known as the world's leading collegiate opera company, IU Opera will offer three new productions as well as some old favorites in its 70th season, which commences in September with the collegiate premiere of "The (R)evolution of Steve Jobs" by Mason Bates. Guest artists Michael Christie will conduct, Kevin Newbury will direct and Vita Tzykun will set design. The opera about the tech legend is a co-production of IU Opera Theater, The Santa Fe Opera, San Francisco Opera and Seattle Opera, and enjoyed its world premiere in Santa Fe in July.
A production of Francis Poulenc's tragic "Dialogues of the Carmelites" from the Washington National Opera will take the spotlight in October, featuring director Francesca Zambello, artistic director of the Washington National Opera, and Hildegard Bechtler, award-winning German set designer.
Michael Shell will guest direct, with set designs from late Jacobs faculty member Max Röthlisberger, for family favorite "Hansel and Gretel" by Engelbert Humperdinck in November. The production will travel to Butler University's Clowes Memorial Hall in Indianapolis Nov. 16 and 17 after its opening weekend in Bloomington.
Guest artists Gary Wedow, conductor, Tazewell Thompson, director, and Erhard Rom, set designer, will team up for a new production of George Frideric Handel's "Giulio Cesare," commencing spring semester.
Gaetano Donizetti's comic "The Elixir of Love," featuring sets from late Jacobs set designer Robert O'Hearn, will return to IU Opera Theater in February and March, for the first time since July 2007.
In celebration of the 100th birthday of Leonard Bernstein, IU Opera will present a new production of his masterwork "Mass" in April, bringing the historic season to a close. Frequent guest artists Constantine Kitsopoulos will conduct and Candace Evans will direct, while Jacobs' own Mark Smith will contribute set designs.
"This range of repertoire and assemblage of creative artists portends a dynamic and thrilling season that is sure to both further the expressive potential of our students and move our multi-generational audiences," said Gwyn Richards, David Henry Jacobs Bicentennial Dean.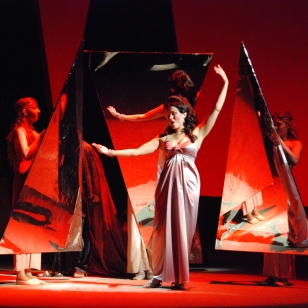 With 19 members on its world-renowned voice faculty roster, the IU Jacobs School of Music offers unparalleled opportunities for young singers and is ranked number one as a great value college for music majors. The Musical Arts Center boasts the second-largest theatrical stage area in the country, surpassed only by the Metropolitan Opera, with technical capabilities rivaling those of the finest professional opera houses in the world. Additionally, IU Opera Theater is the only university opera company to have appeared on the stage of the Met.
The Jacobs School of Music enjoys a long history of singers who go on to perform on the world's most important stages. Famous alumni vocalists include Jamie Barton, Angela Brown, Lawrence Brownlee, Heidi Grant Murphy, Sylvia McNair, Nadja Michael and Ailyn Pérez, to name a few.
"Our biggest strengths are our talented and ambitious students, and a very diverse, accomplished voice faculty," said Mary Ann Hart, chair of the Jacobs Voice Department. "We are very proud of the production values of our six operas each season. Our many guest conductors and directors bring the profession directly to our school, a unique opportunity greatly benefiting our students."
IU OPERA THEATER 2018-19 SEASON AT A GLANCE
All Bloomington performances begin at 7:30 p.m. in the Musical Arts Center unless otherwise indicated. (Please note 2 p.m. matinees for "Hansel and Gretel" and "Mass.")
All pre-performance talks begin at 6:30 p.m. on the mezzanine level of the Musical Arts Center.
"The (R)evolution of Steve Jobs" by Mason Bates
Michael Christie, conductor | Kevin Newbury, director | Vita Tzykun, set designer
Sept. 14, 15, 21, 22
New Production
"Dialogues of the Carmelites" by Francis Poulenc
Francesca Zambello, director | Hildegard Bechtler, set designer
Oct. 12, 13, 19, 20
"Hansel and Gretel" by Engelbert Humperdinck
Michael Shell, director | Max Röthlisberger, set designer
Nov. 2, 3, 4 (2 p.m.) at the Musical Arts Center in Bloomington.
Nov. 16 and 17 at Clowes Hall in Indianapolis.
"Giulio Cesare" by George Frideric Handel
Gary Wedow, conductor | Tazewell Thompson, director | Erhard Rom, set designer
Feb. 1, 2, 8, 9
New Production
"The Elixir of Love" by Gaetano Donizetti
Robert O'Hearn, set designer
Feb. 22, 23, March 1, 2
"Mass" by Leonard Bernstein
Constantine Kitsopoulos, conductor | Candace Evans, director | Mark F. Smith, set designer
April 5, 6, 7 (2 p.m.), 12, 13
New Production

MEDIA CONTACT
Linda Cajigas
Assistant Director of Communications
IU Jacobs School of Music
812-856-3882 | lcajigas@indiana.edu