FOR IMMEDIATE RELEASE
July 26, 2017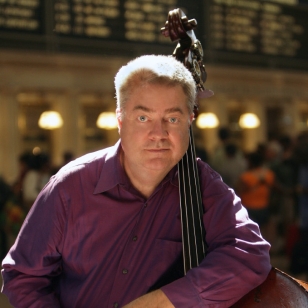 BLOOMINGTON, Ind. – The Indiana University Jacobs School of Music is pleased to announce that Todd Coolman will join its faculty as adjunct professor of music in jazz bass Aug. 1. A two-time Grammy Award winner, Coolman is among the most in-demand bassists on the New York music scene today.
"Todd Coolman has developed a well-earned international reputation as one of the great bassists and jazz educators of his generation," said Executive Associate Dean Jeremy Allen. "He is respected equally for his accomplishments as a performer, his dedication to teaching and his contributions to jazz scholarship. It is rare to find such a breadth of experience in one person, and our students are going to benefit greatly from his presence here. We welcome Todd back to the Jacobs School with great excitement for the future of our jazz bass studio and our Jazz Studies Department."
Coolman studied classical bass at the Jacobs School with Murray Grodner, earning a Bachelor of Music in Bass Performance in 1975. Among his classmates was bassist John Clayton. During his time at IU, Coolman completed every jazz class taught by David Baker and performed in Baker's big band and quintet.
"Todd Coolman is a world-class bassist who has performed with a legion of jazz legends," said Tom Walsh, chair of the Jazz Studies Department. "At the same time, he is a passionate educator with decades of teaching experience. He brings an ideal set of skills to teaching our students, which is made even more special by the fact that Todd is a graduate of the Jacobs School."
Since moving to New York in 1978, Coolman has performed and/or recorded with a virtual "who's who" of jazz artists, including Horace Silver, Gerry Mulligan, Stan Getz, Benny Golson, Art Farmer, Tommy Flanagan, Ahmad Jamal, Lionel Hampton, Benny Goodman and numerous others. Coolman enjoyed a 25-year stint with the James Moody Quartet and continues to actively perform today with an impressive array of artists, including Jon Faddis, Charles McPherson and Renee Rosnes. He has released four CDs as a leader: "Tomorrows," "Lexicon," "Perfect Strangers" and "Collectables."
Coolman has authored two influential jazz bass books, "The Bass Tradition" and "The Bottom Line." After earning a doctorate in music from New York University in 1997, he joined the faculty of the Conservatory of Music at Purchase College–State University of New York and subsequently served as director of jazz studies for 10 years. During that time, he was selected for the 2001-03 Doris and Karl Kempner Distinguished Professorship at Purchase, and he received the Chancellor's Award for Excellence in Teaching. In 2010, he was appointed director of the Skidmore Jazz Institute.
In addition to his busy schedule performing and teaching, Coolman is in demand as a clinician and lecturer at universities throughout the world, and he is frequently sought after as a writing and research consultant for jazz history and CD liner-notes projects.
"It is especially rewarding to return to my alma mater, where I was the beneficiary of a superior music education," said Coolman. "I hope to share my experience with the students and do what I can to bring the real world into the classroom. I know what it takes to succeed upon graduating from the Jacobs School of Music, and I intend to illuminate that reality for the students. I am grateful to finally have the opportunity to 'pay it forward' at Indiana University."
MEDIA CONTACT
Linda Cajigas
Assistant Director of Communications
IU Jacobs School of Music
812-856-3882
lcajigas@indiana.edu