FOR IMMEDIATE RELEASE
July 19, 2017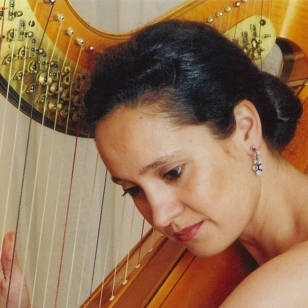 BLOOMINGTON, Ind. – The Indiana University Jacobs School of Music is pleased to announce the appointment of harpist Florence Sitruk as professor of music in harp, effective Aug. 1.
"Florence has built an international profile as one of the world's finest harpists and pedagogues" said Gwyn Richards, David Henry Jacobs Bicentennial Dean. "She champions contemporary repertoire for the instrument, seeks new repertoire wherever it can be found and looks for collaborative opportunities at every turn. Her deeply engaging personality draws people to her, giving her the opportunity to win them over to music and her beloved instrument. People feel her passion and commitment, audiences her unique voice and students her nurturing and caring demeanor."
Born to French-German parents, Sitruk took her first harp lesson at age six, with early studies at Stuttgart Music University and in Paris with Marielle Nordmann. Sitruk earned her Artist Diploma from the Jacobs School of Music, studying with Susann McDonald, whom she calls decisive for her musical development, as well as with pianist György Sebök, who predicted she would become "one of the finest artists in her field." Today, she is acclaimed internationally for her musical language, intelligent programming and pedagogic passion.
"I am delighted to welcome Florence Sitruk to the Harp Department faculty at the Jacobs School," said Elzbieta Szmyt, chair of the department. "I have known Florence for many years, and she is a leading force in the harp world. A graduate of Jacobs herself, not only is she a phenomenal harpist, she is a truly inspiring harp pedagogue. Her engaging personality and collegial attitude make her successful in working with all levels of students and collaborating with other musicians. I cannot think of a better addition to our faculty to continue the great legacy of our department, established by recently retired Distinguished Professor Susann McDonald."
Winning first prize at the Rome International Harp Competition "Bucchi" for Music of the 20th Century led to Sitruk's debut at the Berlin Philharmonic Hall with the Deutsche Symphonie-Orchester Berlin. As an invited soloist, she plays regularly with leading orchestras such as the Lucerne Festival Strings, Lithuanian Philharmonic and Chamber Orchestra, Southwest German Radio Symphony Orchestra and the Deutsche Symphonie-Orchester Berlin. She is in demand around the world and has toured countries such as Estonia, Morocco, Australia and Asia.
Sitruk was appointed guest professor at the Lithuanian Academy of Music and Theatre at age 26 and at the Academy of Music in Kraków, Poland, in 2014. Professor of harp at Geneva University of Music since 2005, she has long been the youngest professor in her field. A passionate chamber musician, she was artistic director of the Swiss chamber music festival Les Muséiques, succeeding Gidon Kremer, and founder of the Elias Parish Alvars Harp Festival in the virtuoso's birth town of Teignmouth, England. She became artistic director of the Israel International Harp Contest in 2015.
Sitruk is the mother of young twin boys and a baby girl, and has been living with her family in Berlin and Geneva. She is an activist for hyperemesis gravidarum, a rare potentially life-threatening illness during pregnancy.
"When a miracle becomes reality, it feels like life is speaking mother tongue, like returning home: such is my gratitude and joy to be appointed to the faculty of the legendary Jacobs School of Music," said Sitruk. "I am looking forward tremendously to my aspiring students and the finest musical colleagues one could wish for. The creative spirit and music resonating in these walls are the highest inspiration for me, and I am grateful to contribute to their continuity."
MEDIA CONTACT
Linda Cajigas
Assistant Director of Communications
IU Jacobs School of Music
812-856-3882 | lcajigas@indiana.edu