FOR IMMEDIATE RELEASE
June 16, 2017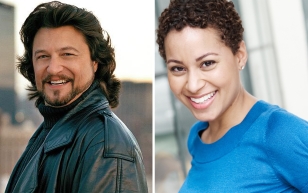 BLOOMINGTON, Ind. – The Indiana University Jacobs School of Music is pleased to welcome Peter Volpe and Katherine Jolly to its Department of Voice faculty beginning Aug. 1.
American bass Volpe will join as associate professor of music in voice, and soprano Jolly will become assistant professor of music in voice.
"We're thrilled that Katherine and Peter are coming to IU," said Gwyn Richards, David Henry Jacobs Bicentennial Dean. "Both have had such extensive experience and know the profession well, and yet have such breadth. Our students will gain immeasurably from them."
Praised for his "stentorian and robust bass" by The New York Times, Jacobs alumnus Volpe consistently receives critical and popular acclaim across four continents for his powerful command and the rich texture of his timbre. Possessing a vast and expanding repertoire of over 90 roles in six languages in a career spanning more than 35 years, his captivating style embraces the depth of every historical and fictional character he embodies.
"In my conversations with Peter, it almost seemed as if he were the Prodigal Son, not quite believing that he could come home to his IU family and be welcomed with open arms," said Mary Ann Hart, chair of the Department of Voice. "However, there is nothing prodigal about Peter's long and very successful operatic career, which has taken him all over the world. He is so eager to give back to IU in the training of young singers in his newest role as a professor—it is a wonderful thing to see."
Volpe will return to the IU Opera Theater stage in September, as the Commendatore in "Don Giovanni."
Volpe has performed in many of the great opera houses throughout the United States and abroad. He made his Metropolitan Opera debut in Prokofiev's "War and Peace" and returned for 13 seasons with the company. Other prominent opera houses he has appeared in include Lyric Opera of Chicago, Washington National Opera and New York City Opera as well as the opera houses of Tokyo, Beijing and Prague, to name a few.
He has performed with some of the most celebrated conductors of his time, including James Levine, Seiji Ozawa and Valery Gergiev, among others.
A few of Volpe's most notable roles include the title role in "Don Giovanni," King Philip II in "Don Carlo," Méphistophélès in "Faust" and Raimondo in "Lucia di Lammermoor."
"My colleagues and I are delighted to welcome Katherine Jolly to our faculty," said Hart. "She brings a portfolio of strengths that includes not only her numerous opera credits, but training as an actor, a long background in classical piano and research interests in the science behind performance anxiety and the effects of yoga on music performance. I was so happy to see how she made immediate connections with our students during her visit to campus. They loved her positive energy and were very enthusiastic about her master class."
An accomplished singer on the opera and concert stages, Jolly has appeared in leading coloratura and soubrette roles in multiple seasons with Opera Theatre of Saint Louis, Houston Grand Opera and New York City Opera, among many others. In the concert arena, her numerous recent appearances include performing with the Phoenix Symphony, Richmond Symphony and Sacramento Choral Arts Society.
After winning the 2006 Metropolitan Opera National Council Auditions Grand Finals, Jolly returned to the Met in spring 2010 to workshop "An Enchanted Island" and was featured with New York City Opera's VOX series for new operas, in "Acquanetta" and "Josephine," broadcast on NPR. She has received an honorable mention as a 2007 George London Awards finalist, a 2006 Opera Theatre of Saint Louis award and a 2005 McAllister Career Grant. She received the National Association of Teachers of Singing Award for Outstanding Teacher/Performer from SongFest in 2016.
As an assistant professor of music at Saint Louis University's Department of Fine and Performing Arts, Jolly was awarded a Mellon Faculty Career Grant and was a 2016-17 finalist for the Excellence in Undergraduate Teaching Award in the College of Arts and Sciences. She has taught for Opera Theatre of Saint Louis' Spring Training program and Union Avenue Opera's Crescendo program, and is a featured teacher in The Sheldon Concert Hall's Online Music Academy. She is also a certified yoga instructor.
MEDIA CONTACT
Linda Cajigas
Assistant Director of Communications
IU Jacobs School of Music
812-856-3882 | lcajigas@indiana.edu