FOR IMMEDIATE RELEASE
May 2, 2017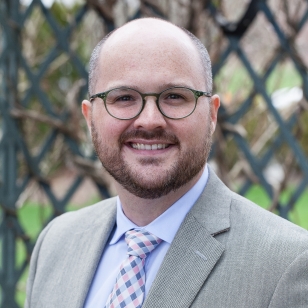 BLOOMINGTON, Ind. – The Indiana University Jacobs School of Music is pleased to announce the appointment of organist Vincent Carr as associate professor of music in organ, effective Aug. 1.
Carr is an organist, conductor and composer currently based in the New York City Metropolitan area. Known for his versatility as a performer, he leads an eclectic musical career, with interests in sacred music, choral repertoire, chamber music, contemporary American repertoire, musical theater, global popular music and songwriting.
He serves as associate organist and choirmaster at the Cathedral of the Incarnation in Garden City, New York. Since 2009, he has been an adjunct professor at the John J. Cali School of Music at Montclair State University in Montclair, New Jersey.
"The faculty is excited to welcome Vince Carr to our department," said Janette Fishell, Organ Department chair. "He brings to his teaching a multiplicity of talents and interests, all of which enrich his depth of knowledge and range of experiences. Above all, Vince is a great communicator at the organ and in his teaching, and our students respond enthusiastically to him, both as an artist and a human being."
"It is a great honor to join the faculty of not only a world-class music school but such a prestigious organ department," said Carr. "IU has long held a very special place in my heart, and I feel privileged to teach alongside such wonderful colleagues. I look forward to working with the next generation of organists and church musicians as they prepare for such bright futures ahead. The vibrancy of the Jacobs School of Music is so infectious, one can't help but be filled with anticipation and excitement."
Carr earned both a Bachelor of Music in Organ Performance and a Bachelor of Arts with Distinction in Spanish from Indiana University. At IU, he studied organ with Larry Smith, harpsichord with Elisabeth Wright and improvisation and church music with John Schwandt and Marilyn Keiser.
A graduate of the Institute of Sacred Music at Yale University, Carr studied organ performance there with Martin Jean, improvisation with William Porter and Jeffrey Brillhart, and choral conducting with Jeffrey Douma.
He has been an award winner in several national performance and improvisation competitions and is in high demand as a clinician, lecturer and performer. From 2006 to 2013, he served as associate organist at the Cathedral Basilica of the Sacred Heart in Newark, New Jersey, one of the largest gothic cathedrals in the Americas. He has performed and studied throughout the United States, Europe and Latin America (including the Republic of Cuba).
Carr is an associate and choirmaster of the American Guild of Organists and serves as a member of the Board of Examiners. In 2013, he took a sabbatical in Europe, studying composition in the tradition of Nadia Boulanger at the Schola Cantorum de Paris through the European American Musical Alliance. In 2014, he served as musical director for a new production of "Ruddigore" for the International Gilbert and Sullivan Festival in Harrogate, England. An active collaborative musician, he has performed extensively with the renowned Richard Alston Dance Company in both London and New York City.
MEDIA CONTACT
Linda Cajigas
Assistant Director of Communications
IU Jacobs School of Music
812-856-3882 | lcajigas@indiana.edu