FOR IMMEDIATE RELEASE
May 11, 2017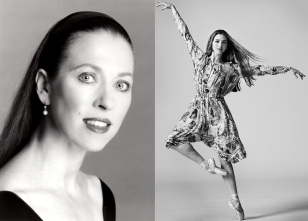 Two of the most acclaimed ballerinas in the world, Kyra Nichols and Carla Körbes, will join the faculty at the Indiana University Jacobs School of Music in the fall, pending approval of the Board of Trustees.
Nichols, the longest-serving principal dancer at New York City Ballet and one of the last five ballerinas brought into prominence by George Balanchine, will become professor of music in ballet, assuming the Kathy Ziliak Anderson Chair in Ballet, previously held by the late Violette Verdy.
Körbes, widely acclaimed as one of the finest dancers in the world when she retired from Pacific Northwest Ballet in 2015 at age 33, will become associate professor of music in ballet.
Both appointments will begin Aug. 1.
Nichols danced for 33 years with New York City Ballet, acknowledged by many to be the premier ballet company in the United States and one of the finest ballet companies in the world. She became an apprentice at New York in 1974 and a member of the corps de ballet shortly thereafter. She was promoted to the rank of principal dancer in 1979.
Over the course of her career, Nichols performed lead roles in nearly 50 Balanchine ballets and was in the original corps of four of Balanchine's later works. She had seven pieces choreographed on her by Jerome Robbins, performing lead roles in many of his other ballets, and she performed in numerous pieces created by other choreographers working with New York City Ballet.
Since retiring from the stage in 2007, Nichols has taught widely, including instructing private students at her studio adjacent to her New Jersey home. In doing so, she carries on a tradition started by her mother, Sally Streets, a former member of New York City Ballet and Nichols' first teacher.
Nichols said she loves teaching and is looking forward to joining the Jacobs faculty: "I am so honored to be following in the footsteps of such great ballerinas as Patricia McBride and Violette Verdy. The ballet program at the Jacobs School of Music is the most respected program at any college in the country, and I am so excited I get to be a part of it."
"She will bring unparalleled talent to the school," said IU Jacobs Dean Gwyn Richards. "It would be difficult to identify another individual who brings with her this kind of experience and artistry. When we consider her stellar tenure as a principal dancer, her post-performance career staging ballets around the country and working with Pennsylvania Ballet, and now her eagerness to bring her knowledge and wisdom to our students, we are proud to make such an addition to our faculty."
Nichols recently announced she is stepping down as the Dr. Morris H. & Esther Kean Ballet Mistress at Pennsylvania Ballet.
Körbes, whom New York Times dance critic Alastair Macaulay has called "one of the most marvelous ballerinas of our day," began her ballet training at age five in her native Brazil. As a teenager, she was cast in Balanchine's "Apollo" with guest artist Peter Boal, a principal dancer with New York City Ballet. Boal was struck by her exceptional level of artistry and invited her to the United States, where she began studying at the School of American Ballet in 1997.
She joined New York City Ballet as an apprentice in 1999, becoming a member of the corps de ballet in 2000. She was promoted to soloist in 2005 and later that year joined Pacific Northwest Ballet, also as a soloist. Körbes was promoted to principal dancer in 2006.
Körbes' repertory includes numerous ballets by George Balanchine, Jerome Robbins, Christopher Wheeldon, William Forsythe, Alexei Ratmansky and Twyla Tharp, among others. She has also performed in many classical works, such as "Swan Lake," "Giselle" and "Don Quixote." Her last performance with Pacific Northwest was in June 2015.
Since retiring from Pacific Northwest, Körbes has come to be recognized as an educator of great skill, devotion and empathy (at the Colburn School in Los Angeles) as well as a leader in the professional artistic world (as associate director of the L.A. Dance Project). She continues to perform with the Dance Project and at the Vail International Dance Festival.
"Ballet is all about passing on from one generation to the next," she said. "I have had the privilege of having great mentors during my career, and now I have the opportunity to pass on that knowledge to the dance students at IU. It is such an honor to join the Jacobs School of Music and contribute to the development of one of the best dance-training programs in the country."
Richards added, "It is deeply meaningful for our school to welcome Carla Körbes, who has accomplished so much artistically, has meant so much to the cultural life of our nation and is so connected to Violette Verdy. For IU to be the focus of her pedagogical endeavors is a thrilling moment for our students."
MEDIA CONTACT
Linda Cajigas
Assistant Director of Communications
IU Jacobs School of Music
812-856-3882 | lcajigas@indiana.edu