FOR IMMEDIATE RELEASE
May 18, 2017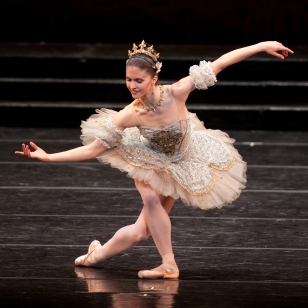 BLOOMINGTON, Ind. – The Indiana University Jacobs School of Music is pleased to welcome Sarah Wroth and Sasha Janes to its Department of Ballet faculty beginning Aug. 1.
Wroth, a Jacobs School alumna, will join as visiting associate professor of music in ballet, and Janes, a guest artist and teacher last year, will become visiting lecturer in music in ballet, further reshaping the department after the recent appointments of dancers Kyra Nichols and Carla Körbes.
"With the additions of Sarah Wroth and Sasha Janes to our faculty, we have completed an unprecedented period of growth in our ballet department," said Executive Associate Dean Jeremy Allen. "Each brings a unique skill set and a remarkably diverse breadth of experience to a faculty that includes some of the finest dancers and teachers in the world. We are confident that the team we have assembled around current department chair Michael Vernon will lead our ballet program to great success in the years to come."
Wroth, who will also serve as associate chair of the department, earned a Bachelor of Science in Ballet Performance with an Outside Field in Education from the Jacobs School of Music in 2003 before becoming a corps de ballet member of Boston Ballet Company under the artistic direction of Mikko Nissinen.
She began working part time for Boston Ballet School in 2004 and started teaching for the Boston Ballet Adaptive Dance Program for Children with Downs Syndrome in 2005. In 2009, she was awarded the E. Virginia Williams Inspiration Award for her unwavering dedication to ballet and the Boston Ballet Company.
In 2013, Wroth began ballet company management by working on a panel to create a Boston Ballet partnership with Northeastern University. The partnership offered undergraduate education opportunities along with a scholarship to Boston Ballet dancers. It also allowed Wroth to earn a master's degree in nonprofit management from Northeastern in 2015.
Wroth performed numerous roles in a variety of styles while dancing with Boston Ballet both nationally and internationally. She has performed principal roles in works by William Forsythe, Jiri Kylian, Marius Petipa, Jerome Robbins, Helen Pickett and Mikko Nissinen, as well as soloist roles in ballets by Sir Frederick Ashton, George Balanchine and August Bournonville.
"The ballet training I received at Indiana University made my career in the professional ballet world a possibility," said Wroth. "It feels like a great achievement to come full circle and be afforded the opportunity to return to IU and teach students the skills I know I thirsted for when I was a student dancing 'in their shoes.' These ballet majors represent the next generation of inspired, informed dancers who will responsibly ensure that our art form thrives in the future. I can't wait to help them love all the incredible work we do."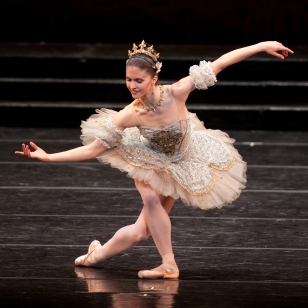 Dubbed "a choreographer to watch" by The Washington Post, Janes was born in Perth, Australia, and received his formal dance training from Australian Ballet School. He has danced professionally with West Australian Ballet, Australian Ballet, Hong Kong Ballet and Dayton Ballet, performing principal roles in works by George Balanchine, Jean Pierre Bonnefoux, Marius Petipa, Septime Webre, Twyla Tharp, Alvin Ailey and many others.
At the invitation of Jean Pierre Bonnefoux and associate artistic director Patricia McBride, Janes joined Charlotte Ballet in 2003. In 2006, he was commissioned to choreograph his first ballet, "Lascia la Spina, Cogli la Rosa," and has since choreographed numerous ballets for the company, including "Rhapsodic Dances," which was performed as part of the Kennedy Center's "Ballet Across America" series in June 2013.
Janes was a participant in New York City Ballet's Choreographic Institute and has been a guest choreographer for Richmond Ballet's New Works Festival. He was a principal dancer with Charlotte Ballet for eight seasons before being named rehearsal director in 2007 and associate artistic director in 2012, adding the title resident choreographer in 2013.
In fall 2016, he premiered his most recent ballet, "Saudade," for the Jacobs School of Music, where he served as guest faculty. In spring 2017, he premiered his newest work for Charlotte Ballet, inspired by Emily Bronte's classic novel "Wuthering Heights."
"After having such an enriching experience working with the students at the Jacobs School in my capacity as guest faculty and choreographer last year, I am honored and delighted to be heading back to Indiana as a faculty member," said Janes. "I look forward to working alongside the ballet luminaries on the faculty and to being part of one of the most respected dance programs in the country."
MEDIA CONTACT
Linda Cajigas
Assistant Director of Communications
IU Jacobs School of Music
812-856-3882 | lcajigas@indiana.edu