FOR IMMEDIATE RELEASE
April 10, 2017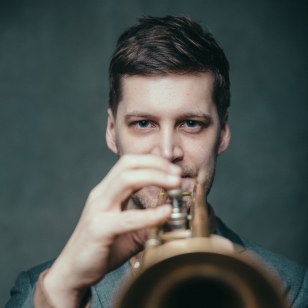 BLOOMINGTON, Ind. – The Indiana University Jacobs School of Music is pleased to announce the appointment of jazz trumpeter John Raymond as assistant professor of music (jazz studies–trumpet), effective Aug. 1, pending approval of the Trustees of Indiana University.
Recently voted a Rising Star Trumpeter in DownBeat magazine's Critics Poll, Raymond has been making a name for himself as one of the most promising up-and-coming jazz musicians in New York City. Originally from Minneapolis, Minn., he has performed with some of the most well-respected names in jazz, including Billy Hart, Orrin Evans, Kurt Rosenwinkel, Ethan Iverson and Linda Oh, among others.
"As a jazz trumpet artist, John has a distinctive sound and will bring a forward-looking sensibility to the Jacobs School," said Tom Walsh, chair of the Jazz Studies Department. "His music blends the familiar and the unexpected in delightful ways. Just check out his group, Real Feels, and its versions of 'Amazing Grace' and 'Scarborough Fair,' and you will know what I mean."
DownBeat proclaimed, "Electrifyingly new and strangely familiar at the same time. With his mix of modern sounds and old-fashioned feeling, Raymond is steering jazz in the right direction."
Raymond has released four albums since 2012, all of which have garnered critical acclaim from The New York Times, DownBeat magazine, JazzTimes and others. He has been a featured artist at the Festival of New Trumpet Music and New York City's Winter Jazz Fest, was interviewed by The Gospel Coalition and WBGO's "The Checkout" program and received a 2015 ASCAP Herb Alpert Young Jazz Composer Award.
Also an accomplished composer, Raymond has additionally established himself as a sought-after educator in New York and beyond. He currently teaches at the United Nations International School in New York City and is a guest clinician and soloist at schools around the country, including the University of North Texas, Oberlin College, Brubeck Institute, New Trier High School and Lawrence University, among others. He has presented at the Jazz Education Network national conference, and his two-part article "Developing the Entrepreneurial Mind: Teaching Students How to Bloom Where They're Planted" was recently published by JAZZed magazine.
Raymond earned a Bachelor of Music in Performance from the University of Wisconsin–Eau Claire and a Master of Music in Jazz Studies from SUNY Purchase College.
"Possessing a forte that few seasoned musicians have attained … [Raymond is] a brilliant talent whose luminosity is endless," said The Birmingham Times.
"It's an incredible honor to have the opportunity to join the Jazz Studies faculty at Indiana University," said Raymond. "The school's rich history in both jazz and trumpet education has always been second to none, and I couldn't be more excited to now participate in shaping what's to come."
MEDIA CONTACT
Linda Cajigas
Assistant Director of Communications
IU Jacobs School of Music
812-856-3882 | lcajigas@indiana.edu