What: Jazz Celebration with bassist John Clayton
When: 8 p.m., Saturday, April 22
Where: Musical Arts Center, 101 N. Jordan Ave., Bloomington
Tickets: Reserved seating tickets available from the Musical Arts Center box office, 812-855-7433, 11:30 a.m.–5:30 p.m. Monday through Friday, or online. $10-$15 Non-students, $5 Students with ID.
VIDEO STREAMING: This event will be live-streamed via IUMusic Live!
FOR IMMEDIATE RELEASE
April 14, 2017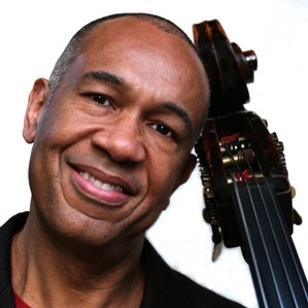 BLOOMINGTON, Ind. -- The Indiana University Jacobs School of Music welcomes Grammy Award-winning arranger, composer, big band leader and jazz bassist John Clayton as the featured artist in its annual Jazz Celebration, at 8 p.m. on Saturday, April 22, in Bloomington's Musical Arts Center.
Clayton, who earned a degree in classical bass performance from the Jacobs School of Music, is known for his soulful and swinging style as both a player and a writer. He will lead the IU Jazz Faculty/Student Jazz Ensemble in performances of his own original compositions and arrangements.
Clayton also will be featured performing in a small group setting with Jazz Studies faculty members Luke Gillespie, piano; Steve Houghton, drums; Walter Smith III, saxophone; and Dave Stryker, guitar. In addition to the small group players, the large jazz ensemble will include faculty members Jeremy Allen, bass; Pat Harbison and Joey Tartell, trumpet; and Tom Walsh, saxophone. Clayton's arrangements of standards will be sung by student soloists Bailey Grogan, Kathryn Sherman and Kaitlyn Williams.
David Brent Johnson, host of WFIU's "Just You and Me" and "Night Lights" jazz programs, will emcee Jazz Celebration 2017, which is part of April's Jazz Appreciation Month.
After stints with the Count Basie Orchestra and the Amsterdam Philharmonic Orchestra (The Netherlands), Clayton formed The Clayton Brothers (which now includes his son Gerald Clayton on piano) with his saxophone-playing brother, Jeff, in 1978. The Claytons formed the Clayton-Hamilton Jazz Orchestra with fellow Jacobs alumnus Jeff Hamilton, drums, in 1986, recording nine albums to date and garnering major critical recognition. The group's most recent album, "The L.A. Treasures Project," was nominated for a 2014 Grammy Award.
Clayton has also recorded with a long list of music legends, including Quincy Jones, Diana Krall, Paul McCartney, Carmen McRae, Etta James, Natalie Cole, Ray Brown, Milt Jackson, Gene Harris, George Benson and Michael Bublé, among many others. His "I'm Gonna Live Till I Die," recorded by Queen Latifah, won the 2007 Grammy Award for Instrumental Arrangement Accompanying Vocalist(s).
Reserved seating tickets--$10-$15 for non-students and $5 for students with ID—are available from the Musical Arts Center box office 11:30 a.m. to 5:30 p.m. Monday through Friday or online.
The event will be live-streamed via IUMusic Live!
Jazz Celebration 2017 is sponsored by Old National Wealth Management.
MEDIA CONTACT
Linda Cajigas
Assistant Director of Communications
IU Jacobs School of Music
812-856-3882 | lcajigas@indiana.edu