FOR IMMEDIATE RELEASE
Dec. 7, 2016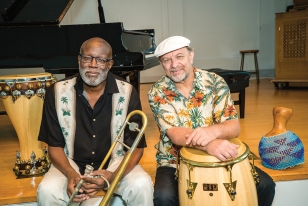 BLOOMINGTON, Ind. – Indiana University Jacobs School of Music faculty members Michael Spiro, percussionist, and Wayne Wallace, trombonist, are once again nominated for Grammys in the Best Latin Jazz Album category.
This year, their "Canto América" release, featuring La Orquesta Sinfonietta (The Chamber Orchestra), a diverse group of Jacobs School students, faculty, alumni and professionals, vies for the recording industry's highest prize.
No strangers to the Grammys, Spiro has now garnered 10 nominations, while Wallace has pulled down eight.
Jacob Belser, a faculty member in the Jacobs Audio Engineering and Sound Production Department, recorded, mixed and mastered the album for Wallace's own Patois Records.
As usual, a number of Jacobs School of Music alumni also appear on nominated recordings.
Jazz alumnus and renowned drummer Peter Erskine's "Dr. Um," on his Fuzzy Music label, was nominated for Best Jazz Instrumental Album. He also appears on Bob Mintzer's Grammy-nominated "All L.A. Band" in the Best Large Jazz Ensemble Album category.
Matt Holman is featured on flugelhorn on Best Large Jazz Ensemble Album contender "Real Enemies," by the Darcy James Argue's Secret Society, while Scott Wendholt plays trumpet solo on "Flow" by Alan Ferber, which is up for Best Instrumental Composition.
Two alumni are nominated as engineers this year—Booker T. Jones, for Prince's "Hit n Run Phase Two," in the Best Engineered Album, Non-Classical category, and Laura Sisk, for Sia's "This Is Acting," in the Best Pop Vocal Album category.
Mezzo-soprano Angela Brower sang the role of Cherubino on Deutsche Grammophon's release of Mozart's "Le nozze di Figaro," vying for Best Opera Recording.
Pianist Marta Aznavoorian and her Lincoln Trio round out the list, with their "Trios from Our Homelands" release competing for Best Chamber Music/Small Ensemble Performance.
The Grammy Awards will be presented live by the National Academy of Recording Arts & Sciences on Sunday, Feb. 12, on CBS.