FOR IMMEDIATE RELEASE
June 15, 2016
BLOOMINGTON, Ind. – The Indiana University Jacobs School of Music is deeply saddened to announce the death of set and costume designer Robert O'Hearn, professor emeritus of opera studies.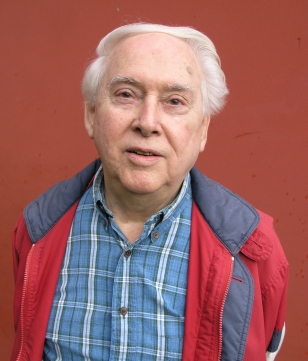 O'Hearn died on May 26 in Bloomington, Ind., at the age of 94. He was an IU Opera Studies faculty member from 1988 until his retirement, in 2008.
O'Hearn's worldwide reputation as a set and costume designer was built on the iconic productions he designed for the Metropolitan Opera. "Der Rosenkavalier," which was built twice to extend its life and used for almost 50 years by the Met, "Die Frau ohne Schatten," which was part of the Met's inaugural season at Lincoln Center and "Porgy and Bess" are only a few of his designs that helped shape the world of opera.
"As a student and scenic painter for his productions for the Jacobs School of Music and IU Opera and Ballet Theater, I, like so many others, was shaped by his talent, sensitivity and commitment to beauty and elegance," said Tim Stebbins, Ted Jones Executive Director of Production at the Musical Arts Center. "In later years, he never lost his humor or gentle kindness. What he brought to the opera and ballet world and the Jacobs School of Music cannot be duplicated and will be missed by all who enjoyed his work and his character for so long."
Robert Raymond O'Hearn Jr. was born in Elkhart, Ind., on July 19, 1921, to Robert Raymond Sr. and Ella May (Stoldt) O'Hearn. He earned his B.A. from Indiana University in 1943 and later studied at the Art Students League of New York.
From 1948 to 1952, O'Hearn was a fixture at the Brattle Theatre Company in Cambridge, Mass., designing numerous productions. The artwork of those productions is currently part of the Harvard University Theater Collection.
He made his Broadway theatre debut with the set and costume design for "The Relapse" in 1950. Beginning in 1953, he served as assistant designer on such legendary Broadway productions as "Kismet" (1953), "The Pajama Game" (1955), "My Fair Lady" (1956) and "West Side Story" (1958). Among the designers he worked with were Lemuel Ayers, Oliver Messel and Oliver Smith.
Washington Opera Society's production of "Ariadne auf Naxos" in 1958 was O'Hearn's first with director Nathaniel Merrill. Their production of "Don Giovanni" caught the eye of Rudolph Bing, then general manager of the Metropolitan Opera, who asked them to do "The Elixir of Love" at the Met. O'Hearn and Merrill did 12 productions together there as well as 25 in other venues, including Central City Opera House in Colorado and the Miami Opera, Bergenz Festival, Vienna Volksvoper and Stasbourg Opera.
By 1960, O'Hearn was designing in his own right at the Met, where, for 25 years, he designed several of its most important productions. Some highlights of his long list of Met credits include "L'Elisir d'Amore" (1960), "Die Frau ohne Schatten" (1966), "Hänsel und Gretel" (1967), "Der Rosenkavalier" (1969) and "Porgy and Bess" (1985). His other U.S. credits are quite extensive, including the New York City Opera, New York Shakespeare Festival, New York City Center, American Ballet Theatre, New York City Ballet, Kennedy Center for the Performing Arts, Boston Lyric Opera, Lyric Opera of Chicago, Houston Grand Opera, Ballet West, Los Angeles Civic Light Opera, San Francisco Opera, San Francisco Ballet, Colorado Opera and Michigan Opera Theater.
O'Hearn's international credits are no less impressive. In 1965, he designed "Porgy and Bess" for the Volksoper Vienna. This began a long association with European opera houses, including "Porgy and Bess" at the Bregenzer Festspiele, "Otello" at the Staatsoper Hamburg, "Boris Gudinov," "Carmen" and "Swan Lake" in Strasbourg, "Die Meistersinger" in Karlsruhe and "Der Rosenkavalier" with the Canadian Opera Company.
Before joining the Jacobs School of Music faculty, O'Hearn served as professor at the New York Studio and Forum of Stage Design from 1968 to 1988. He also gave guest lectures and classes at Carnegie Mellon University, Brandeis University and Penn State University.
In his 20 years at the Jacobs School, he created more than 30 opera and 14 ballet designs for IU Opera and Ballet Theater, many of which remain in current rotation. His designs include "Peter Grimes," "Eugene Onegin," "Wozzeck," "Falstaff," "Carmen," "Ariadne auf Naxos," "Arabella," "Manon" and "Le Nozze di Figaro," among others.
In 2005, O'Hearn received the Robert L. B. Tobin Award for lifetime achievement in theatrical design. His sets and designs continue to be used throughout the country today.
He is survived by his niece, Susan Gorrell.