WHAT: Pianist Menahem Pressler with the Indianapolis Symphony Orchestra
WHEN: 8 p.m., Friday, May 6
WHERE: Musical Arts Center, 101 N. Jordan Ave., Bloomington
TICKETS: $10 general admission. Available from the Musical Arts Center box office, 812-855-7433, 11:30 a.m.-5:30 p.m. Monday-Friday. 
FOR IMMEDIATE RELEASE
April 27, 2016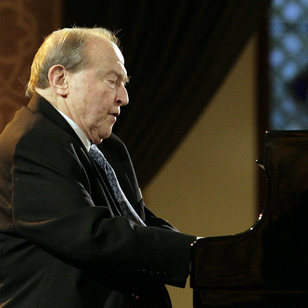 BLOOMINGTON, Ind. – The Indiana University Jacobs School of Music is pleased to present legendary faculty pianist Menahem Pressler, distinguished professor and Charles H. Webb Chair in Music, in concert with the Indianapolis Symphony Orchestra at 8 p.m. Friday, May 6, in Bloomington's Musical Arts Center.
The concert will be conducted by Roberto Abbado, music director of Palau de les Arts Reina Sofia in Valencia, Spain, and will feature Brahms' "Tragic Overture," Op. 81, W. A. Mozart's Piano Concerto No. 27 in B-Flat Major, K.595 and R. Schumann's Symphony No. 2 in C Major, Op. 61.
Pressler, 92, joined the Jacobs School of Music faculty in 1955. Founding member and pianist of the Beaux Arts Trio, he has established himself as one of the world's most distinguished and honored musicians, with a career that spans almost six decades. He continues to captivate audiences throughout the world as both performer and pedagogue, performing solo and chamber music recitals to great critical acclaim while maintaining a dedicated and robust teaching career.
Among his numerous honors and awards, Pressler has received honorary doctorates from the Manhattan School of Music, University of Nebraska, San Francisco Conservatory of Music and North Carolina School of the Arts, six Grammy nominations, lifetime achievement awards from Gramophone magazine and the International Chamber Music Association, Chamber Music America's Distinguished Service Award and the Gold Medal of Merit from the National Society of Arts and Letters. He has also been awarded the German Critics "Ehrenurkunde" award and election into the American Academy of Arts and Sciences.
In 2005, Pressler received two additional awards of international merit: the German President's Deutsche Bundesverdienstkreuz (German Cross of Merit) First Class, Germany's highest honor, and France's highest cultural honor, the Commandeur in the Order of Arts and Letters award. In 2007, he was appointed an honorary fellow of the Jerusalem Academy of Music and Dance in recognition of a lifetime of performance and leadership in music.
His more recent honors and awards include the prestigious Wigmore Medal in 2011 and, in 2012, the Menuhin Prize given by the Queen of Spain, inductions into the American Classical Music and Gramophone Magazine (as part of the Beaux Arts Trio) halls of fame and the Music Teachers National Association Achievement Award.
General admission tickets to the May 6 concert are $10 and available from the Musical Arts Center box office 11:30 a.m. to 5:30 p.m. Monday through Friday.
The Indianapolis Symphony Orchestra's performance is sponsored by the IU Office of the President.