FOR IMMEDIATE RELEASE
April 1, 2016
BLOOMINGTON, Ind. – Six students from the Indiana University Jacobs School of Music will present a concert at the John F. Kennedy Center for the Performing Arts in Washington, D.C., at 6 p. m. on Friday, April 8, in the Terrace Theater. The performance is free and open to the public and will be streamed live on the web.  
The concert is part of the Conservatory Project, an initiative of Performing Arts for Everyone's Millennium Stage series designed to present the best young musical artists in classical, jazz, musical theater and opera from leading conservatories, colleges and universities around the country.  
Performing this year are Jacobs School of Music students Inés Picado Molares, viola; Ilya Friedberg, piano; Bille Bruley, tenor; Carlo Fierens, guitar; and the Bloomington Trio. Members of the trio include Friedberg, Eliot Heaton, violin, and SeungAh Hong, cello.
The program includes works by J.S. Bach, Alec Roth and Maurice Ravel. 
The students will give a preview concert featuring the same program at 12:15 p.m. on Tuesday, April 5, in the Jacobs School's Ford-Crawford Hall.
About the Artists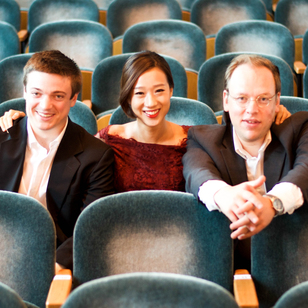 The Bloomington Trio was formed in 2014 at the Indiana University Jacobs School of Music. Pianist Ilya Friedberg and violinist Eliot Heaton are founding members, and cellist SeungAh Hong joined the group in early 2015. Since then, the ensemble has maintained a full concert schedule, including stops in New York City, Madison, Oberlin, Columbus, Chicago and Bloomington. They have worked with IU faculty from the jazz, music theory and composition departments to create a sound and repertoire that stands out in the increasingly diverse world of chamber music. A recent performance was noted for having "tonal resonance and passionate intensity, never overwrought but continuously infectious. … a performance that was deeply moving." (Bloomington Herald-Times). Having worked since their inception under the guidance of renowned pianist Menahem Pressler, this ensemble is steeped in the tradition of the piano trio literature. It seeks to carry this tradition into the future of music-making. The trio's performances include elements of jazz improvisation, presentations of poetic and literary excerpts and, of course, the sublime music of the classical chamber repertoire.
Tenor Bille Bruley is a second-year graduate student in the Jacobs School of Music, studying with Carol Vaness. A Montgomery, Texas, native, he finished his studies at Baylor University in 2014, where he studied with Robert Best. This summer, Bruley will be a young artist with the Glimmerglass Festival, singing Beadle Bamford in "Sweeney Todd," while covering Adolfo Pirelli in "Sweeney Todd" and Giles Corey in "The Crucible." Awards include the Central City Opera Iris Henwood Richards Memorial Award, Thomas Stewart Award for Vocal Excellence from the Baylor University School of Music, finalist and winner in the 2015 Lois Alba Aria Competition, finalist in the 2014 Dallas Opera Guild Competition and third-place winner in the Music Teachers National Association National Young Artist Competition. He was the Houston District first-prize winner and regional finalist in the Metropolitan Opera National Council Auditions in 2014. Bruley has performed with many orchestras, symphonies and ensembles across the nation, including the Waco Symphony, Fort Worth Baroque Society, Texas Baroque Ensemble and South Dakota Chorale. He was recently accepted into the resident artist programs at Lyric Opera of Kansas City and Virginia Opera.
Carlo Fierens was born in Italy. He started studying guitar with his father, Guillermo, an internationally celebrated guitarist. He later earned a Diploma at the Conservatory for Music in Alessandria and a master's degree in guitar at the Trento Conservatory. He has been awarded many prizes in both national and international competitions, including the 2013 Italian National Prize for the Arts, a prize awarded to the best music student of the year. He has been featured in television and radio broadcasts such as RAI National Italian TV, Radio Nacional Argentina, National Polish Radio and National Public Radio of Armenia. Fierens also holds an M.A. in musicology summa cum laude. In 2010, he won a scholarship to study at the Paul Sacher Stiftung in Basel, Switzerland, where he completed research on contemporary guitar repertoire. In 2011, he earned an Artist Diploma from the University of Denver, studying with Ricardo Iznaola on a full-ride scholarship. Fierens was performing assistant at the Bowdoin International Music Festival (Maine). He is currently pursuing his doctorate with Ernesto Bitetti at the Jacobs School of Music, where he serves as assistant instructor. 
Ilya Friedberg has been referred to as a "poet of the piano with a magical touch that can bring a fresh view on much-played pieces." At home on the stage as both a soloist and chamber musician, he is a vivid performer, composer and conductor as well as a very active promoter of new music. A winner of multiple international competitions, he has enjoyed collaborations with great artists such as the Pacifica Quartet, Vladimir Ashkenazy, Claude Baker, Mark Kaplan, Evelyne Brancart, Timothy Noble, Carol Vaness, Uriel Segal and Eric Stumacher. Friedberg has performed worldwide in concert halls such as Small Philharmonic Hall in St. Petersburg and Carnegie Hall in addition to other venues across Europe and the United States. He is a student of Menahem Pressler and has been his assistant for the last three years at Indiana University. 
Violinist Eliot Heaton "possesses a lofty level of technique … he's a musician of sensitivity and courage" (The Herald-Times). Having recently won the concertmaster chair at the Detroit Opera House, he is finishing his graduate studies at the Jacobs School of Music before beginning the position this fall. He has previously appeared as concertmaster with American Ballet Theatre, Fort Wayne Philharmonic, Terre Haute Symphony, Columbus Indiana Philharmonic and the Oberlin Symphony and Chamber orchestras. Heaton attended Oberlin College and Conservatory for his undergraduate studies, earning degrees in both history and violin performance before attending Indiana University for his master's in music. He currently studies with Kevork Mardirossian. Heaton has previously appeared at the Kennedy Center as a winner of the 2014 International Young Soloist competition. 
A winner of many renowned international competitions, cellist SeungAh Hong has been praised for her beautiful interpretation of solo and chamber music and for her commanding stage presence. She has won many prizes, including the Kumho Culture Artist Foundation Young Artist Award in 2014 and the Rising Star competition in 2014. She was a special-prize winner in the Osaka International Music Competition. Hong is currently in the Artist Diploma program at Indiana University, where she won the 2016 cello concerto competition, earning an appearance as a soloist performing the Schumann cello concerto with the IU Symphony Orchestra. An active chamber musician, Hong has collaborated with Joshua Bell, Atar Arad, Kurt Muroki, Lawrence Hurst, Louis Claret, Li-wei Qin, Chee-yun Kim and Edward Gazouleas in addition to her work with the Bloomington Trio. Since 2014, she has been studying with world-renowned cellist Peter Stumpf, and she hopes to continue to build her young career as both a soloist and a chamber musician. 
Born in A Coruña, Spain, violist Inés Picado Molares graduated from the Higher Conservatory of Music of Oviedo in 2010. From 2008 to 2011, she studied at the Reina Sofía School of Music in Madrid with Diemut Poppen, Nils Mönkemeyer, Heime Müller and Marta Gulyas. In 2013, she earned a Master of Arts in Music Performance from the Conservatorio della Svizzera Italiana, under Yuval Gotlibovich. In 2015, she earned a Performer Diploma in Solo Performance from the Jacobs School of Music, where she studied with Mauricio Fuks and Atar Arad. She is currently pursuing an Artist Diploma with Arad. In 2010 and 2011, she received awards as the most outstanding viola student and as a member of the most outstanding string quartet at the Reina Sofía School of Music. She won first prize and special prize as best string player at the Intercentros Competition in Madrid in 2009 and first prize at the Menorca-FIDAH Competition in 2011. In 2012, she was hired by The Orchestra Mozart to perform in Vienna's Musikverein under the baton of Claudio Abbado and to make a recording for Deutsche Grammophon. As a soloist, Molares has performed with orchestras such as the Galicia Symphony Orchestra (Festival Mozart, A Coruña, 2008 and 2012), Orquesta Gaos and Menorca Chamber Orchestra (2011).