FOR IMMEDIATE RELEASE
Feb. 9, 2016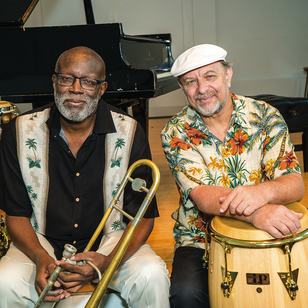 BLOOMINGTON, Ind. – Percussionist Michael Spiro and trombonist Wayne Wallace are on a mission. "Our work is about trying to break down barriers—or at least soften them," they said. 
Longtime colleagues and current faculty members at the Indiana University Jacobs School of Music, Spiro and Wallace are giants in the world of Latin jazz. Besides being masters of their instruments, these prolific musical powerhouses are also accomplished composers and arrangers, garnering nine and seven Grammy nominations respectively. 
In fact, the most recent release from the Wayne Wallace Jazz Quintet, "Intercambio"—which features Spiro—is up for Best Latin Jazz Album this year. They'll find out Feb. 15 if they grab the golden gramophone. 
And there's another very important date coming up for them this month. Feb. 12 will see the release of their latest effort, "Canto América," featuring La Orquesta Sinfonietta (The Chamber Orchestra), a diverse group of Jacobs School students, faculty, alumni and professionals.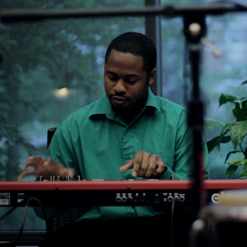 "'Canto América' is my dream CD in trying to announce to the world that we have an entire cross section of the Jacobs School of Music that can create bonds between departments and artistic styles," said Spiro, who received a Collaborative Fellowship Award for the project from the IU Institute for Advanced Study. 
Wallace and Spiro explained that on their numerous trips to Cuba, they have been inspired by the genre inclusiveness of the nation's music. The classical string players in Havana's symphony orchestra play in popular dance bands and are eager to learn jazz theory and harmony. The top-notch jazz players study and perform classical repertoire on a regular basis. Both the classical and jazz musicians have a deep knowledge of Afro-Cuban folkloric music. There are no apparent barriers between the styles, the musicians and the general public. "It is just music," said the dynamic duo.
"Throughout the Americas, the stories of people's lives and beliefs are musically engraved in myriad performances of hymns, marches, waltzes, salsa, blues, Bantú music, negro spirituals, jazz, tangos, mazurkas … The list is endless, fascinating and illuminating," they wrote in the liner notes of the genre-bending recording, which will be released on Wallace's own Patois Records label.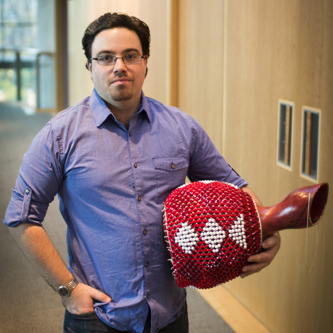 "This is the best work I've ever done," said Wallace. "It's complete. It's manifestation of musical synergy is about as good as it gets. My vision is to make Jacobs a destination point for people who want to play this type of music." 
"Canto América" has been a cathartic spark that continues to pull the pair onto a path of further exploration and discovery. 
And on their way, they continue to invite students and others to explore with them—to challenge the norm, open new doors and dialogue, create more community. To realize that "music is music, and musicians are musicians." 
Among those fellow explorers on this CD is Aruban pianist Jamaal Baptiste, who is pursuing a master's degree in jazz studies at the Jacobs School under the tutelage of Luke Gillespie. "This album bridges the gap between folklore, jazz and classical music," said Baptiste. "It will be a reference point in history because of the story that is told musically in every song and the way the genres are blended in every tune."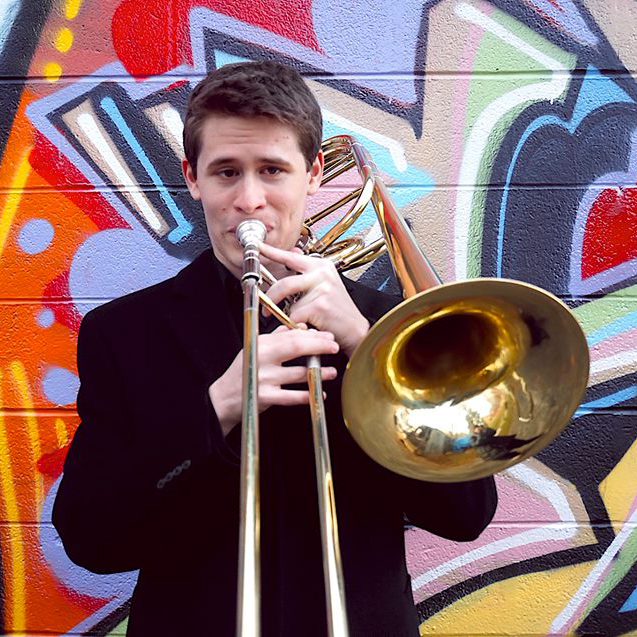 Another is Joe Galvin, a doctoral student in Afro-Cuban percussion and Trinidadian steelpan with Spiro. "Professor Spiro's and Wallace's mission statement for 'Canto América' was to create a cross-cultural musical statement, exploring the many possible combinations of Latin American folkloric and sacred practices, contemporary Latin American popular styles and Western art music. In this way, I believe they were extraordinarily successful. 
"These gentlemen also accomplished another, more subtle goal—of bringing together different groups of musicians at different stages in their careers. It is thrilling to get to work with so many seasoned veterans while also being included on a project with so many up-and-coming musicians." 
Brennan Johns, a student member of La Orquesta Sinfonietta at the time of the recording, has since earned a Bachelor of Music in Bass Trombone and Euphonium Performance with a minor in Jazz Studies, with Carl Lenthe, M. Dee Stewart and Wallace. He is now horn coach for the IU Soul Revue. "Wayne and Michael are two of my most valuable mentors. When hearing the finished product, I was overwhelmed at both the masterpiece they had created and how amazing it was to be such a big part of it. I'm not exaggerating when I say I think this album will be one of the definitive albums of the 21st century and of Latin jazz as a whole."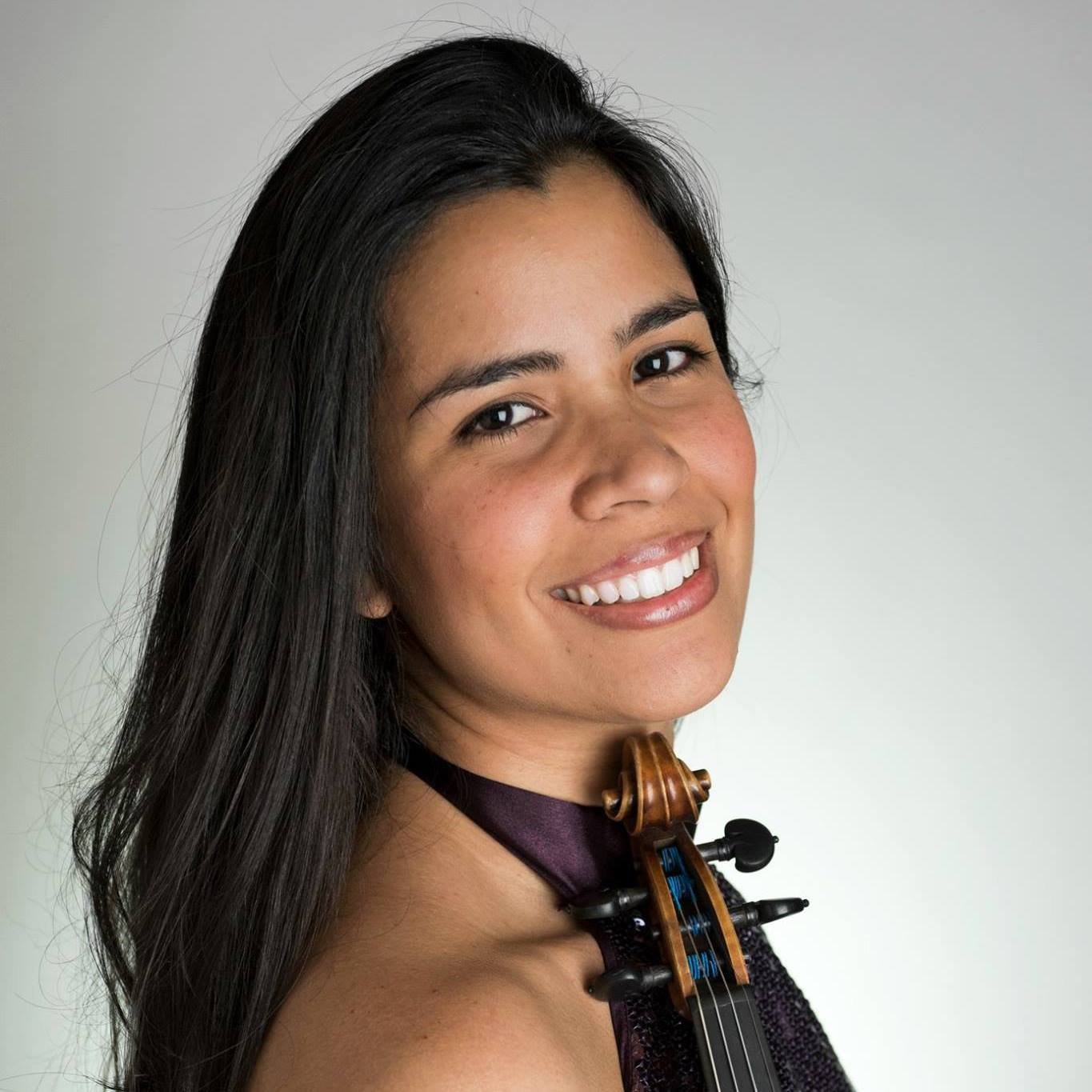 Galvin and Johns also performed on "Intercambio." 
And what would a chamber orchestra be without strings? Violinist Maria Jose Romero, a doctoral student with Kevork Mardirossian, said, "This experience made me realize how difficult it is to be a recording artist; it really is a completely different art of its own and such a bonding experience with the rest of the players. Wayne Wallace's and Michael Spiro's attitude, patience and ability during the entire process was extremely motivating.​​" 
"I'm the musician I am today because of mentorship," Wallace said. "We need to prepare students for the outside world. Academia alone will not do that." 
According to Baptiste, "The education we receive in the Jacobs jazz program prepares us for any musical situation." 
"By creating an ensemble that combines current music students at IU and professional musicians from around the country, they have built a new multigenerational ensemble, in a sense bolstering the careers of younger musicians," said Galvin. "I see this as a truly selfless act and the definition of being a music educator—not only teaching private lessons, but creating the next generation of professional musicians with real-world experience."