FOR IMMEDIATE RELEASE
April 6, 2015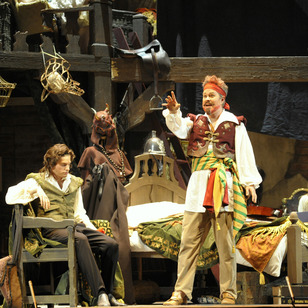 BLOOMINGTON, Ind. – During the 2014-15 season-closing productions by Indiana University Opera and Ballet Theater, Gwyn Richards, dean of the IU Jacobs School of Music and general manager of IU Opera and Ballet Theater, is taking the stage at Bloomington's Musical Arts Center to announce the programming for the company's 2015-16 season.
The 67th season of the world's leading collegiate opera and ballet company will include five operas, three ballets and one musical. The programming includes familiar audience favorites as well as three new productions, including Jake Heggie's critically acclaimed "Dead Man Walking."
In addition to artistic teams led by Jacobs School faculty and numerous renowned guest artists, IU Opera and Ballet Theater boasts a history of serving as a springboard for vocalists who go on to perform on the world's most important opera stages. Last month, Deniz Uzun, who performed in IU Opera and Ballet's "Alcina" in February of this year, competed in the finals of the Metropolitan Opera National Council Auditions, which arguably is the most prestigious vocal competition in the country. Over the years, IU Opera and Ballet Theater audiences have enjoyed performances by 36 winners of the Met Audition Finals—more than any other conservatory or school of music in the country.
The season will begin in September with Rossini's comedic "The Barber of Seville," featuring conductor Paul Nadler, director Garnett Bruce and set and costume designer C. David Higgins.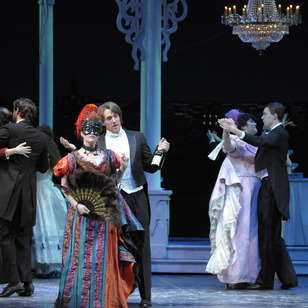 Jake Heggie's "Dead Man Walking," with a libretto by Terrence McNally, will make its IU Opera Theater debut in October with conductor David Neely, director Jose Marie Condemi, set designer Stephen Kemp and costume designer Linda Pisano. The opera is based on the 1993 non-fiction book by Sister Helen Prejean and the 1995 film by Tim Robbins of the same name.
Conductor Arthur Fagen, director Robin Guarino and set designer Allen Moyer will take the helm for a new production of Johann Strauss' "Die Fledermaus" in November.
Spring semester will commence with Mozart favorite "Così fan tutte," conducted by Arthur Fagen, directed by Michael Shell and designed by C. David Higgins.
Bizet's "Carmen" will return to IU Opera Theater in February and March, for the first time since April 2006. Conductor David Effron, director Jeffrey Buchman and set and costume designer Robert O'Hearn will bring this favorite work to life.
IU Ballet Theater, directed by Ballet Department Chair Michael Vernon, will offer three sophisticated choreographic programs.
The fall ballet will open with "Musical Offering," choreographed by Paul Taylor and set to music by J.S. Bach. "Concerto Barocco," with choreography by George Balanchine and music by J.S. Bach, and "Surfer at the River Styx," choreographed by Twyla Tharp to music by Donald Knaack, complete the program.
IU's annual holiday production of Peter Ilyich Tchaikovsky's "The Nutcracker" will return in December with choreography by Vernon and lush set and costume designs by Higgins. Conductor Andrea Quinn will take the podium.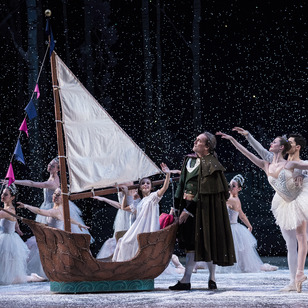 Four works by George Balanchine, widely considered the "father of American ballet," will be featured in the spring. "Raymonda Variations," with music by Alexander Glazunov, will open the program, followed by "Tarantella," with music by Louis Moreau Gottschalk. Set to Tchaikovsky's iconic music, "Elegies" and "Serenade" will bring the ballet season to a close.
The 2015-16 season will also introduce a few changes, in the usual curtain time as well as in subscription choices. The evening curtain time will change from 8 p.m. to 7:30 p.m., with pre-performance talks at 6:40 p.m. Patrons will be able to design their own subscription packages of three productions as well as full-season subscriptions, and an annual spring musical will be offered separately from the rest of the season.
"The range of productions has such stylistic variety that everyone will find something to their liking," said Richards. "The new subscription options offer ample flexibility to create the season each patron prefers."
Subscriptions are now on sale at the Musical Arts Center box office, open from 11:30 a.m. to 5:30 p.m. Monday through Friday (812-855-7433).
Single tickets for all productions go on sale to the general public Aug. 23.
IU OPERA AND BALLET THEATER 2015-16 SEASON AT A GLANCE
NOTE: Start times have changed, and all performances now begin at 7:30 p.m. in the Musical Arts Center unless otherwise indicated. (Please note 2 p.m. matinees for "The Nutcracker" and "The Sound of Music.")
All pre-performance talks will begin at 6:40 p.m. on the mezzanine level of the Musical Arts Center.
OPERA
"The Barber of Seville" by Gioacchino Rossini
Sept. 18-19, 25-26
Conductor: Paul Nadler, conductor of more than 60 Metropolitan Opera performances
Stage Director: Garnett Bruce, a favorite at major opera companies, including San Francisco and Dallas
Production Design: C. David Higgins, former head of the Jacobs Opera Studies Department and principal designer for IU Opera Theater
"Dead Man Walking" by Jake Heggie (New Production)
Oct. 16-17, 23-24
Conductor: David Neely, music director and principal conductor of Des Moines Metro Opera with major European credits, particularly in Germany
Stage Director: Jose Marie Condemi, director at leading companies including Lyric Opera of Chicago, San Francisco Opera, and Teatro Colón, Buenos Aries
Set Designer: Stephen Kemp, multi-talented designer for many major regional theater companies as well as Off-Broadway
Costume Designer: Linda Pisano, award-winning IU Theatre Costume Design director
"Die Fledermaus" by Johann Strauss Jr. (New Production)
Nov. 13-14, 19-20
Conductor: Arthur Fagen, Atlanta Opera's inspired music director and a Jacobs faculty member
Stage Director: Robin Guarino, versatile American opera and film director whose projects include the Metropolitan Opera's HD production of "Così fan tutte"
Set and Costume Designer: Allen Moyer, whose formidable achievements include the world premiere of "Harvey Milk" at Houston Grand Opera
"Così fan tutte" by Wolfgang Amadeus Mozart
Feb. 5-6, 12-13
Conductor: Arthur Fagen
Stage Director: Michael Shell, whose innovative direction has earned rave reviews at companies including Santa Fe, St. Louis and Philadelphia
Set and Costume Designer: C. David Higgins
"Carmen" by Georges Bizet
Feb. 26-27, March 4-5
Conductor: David Effron, Grammy Award-winning conductor with a major international career in symphony and opera, and a Jacobs faculty member
Stage Director: Jeffrey Buchman, member of Seattle Opera's directing staff
Set and Costume Designer: Robert O'Hearn, whose credits range from the Vienna Staatsoper to the New York City Ballet to every major American opera company
BALLET
"Fall Ballet"
Oct. 2, 3
"Musical Offering" – Choreography by Paul Taylor, music by J.S. Bach
"Concerto Barocco" – Choreography by George Balanchine, music by J.S. Bach
"Surfer at the River Styx" – Choreography by Twyla Tharp, music by Donald Knaack
"The Nutcracker" by Peter Ilyich Tchaikovsky
7:30 p.m. Dec. 3, 4, 5; 2 p.m. Dec. 5, 6
Conductor: Andrea Quinn, former music director of the New York City Ballet and The Royal Ballet, U.K.
Choreographer: Michael Vernon
Set and Costume Designer: C. David Higgins
"Spring Ballet"
March 25, 26
All choreography by George Balanchine
"Raymonda Variations" – Music by Alexander Glazunov
"Tarantella" – Music by Louis Moreau Gottschalk
"Elegie" –  Music by Peter Ilyich Tchaikovsky
"Serenade" – Music by Peter Ilyich Tchaikovsky
MUSICAL
"Oklahoma!" by Rodgers and Hammerstein (New Production)
7:30 p.m. April 8, 9, 15, 16; 2 p.m. April 10
Conductor: Constantine Kitsopoulos, Queens Symphony Orchestra director
Stage Director: Gabriele Barre, internationally acclaimed director with major Broadway credits
Costume Designer: Linda Pisano