FOR IMMEDIATE RELEASE
March 19, 2015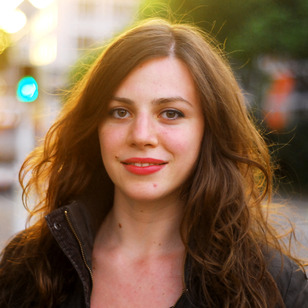 BLOOMINGTON, Ind. – Indiana University Jacobs School of Music artist diploma student Deniz Uzun will compete in the Metropolitan Opera National Council Auditions Grand Finals at 3 p.m. this Sunday, March 22, at the Metropolitan Opera in New York City.
Mezzo-soprano Uzun, 26, advanced to the prestigious finals by being named a winner in the March 15 National Semi-Finals, also at the Met, after winning the Indiana District and Central Region competitions.
"I'm very proud of Deniz," said Carol Vaness, Jacobs professor of voice and Uzun's current teacher. "She is a stunning talent and an amazingly fast learner who is very advanced technically, besides being such a gorgeous performer. Teaching Deniz is a wonderfully intense joy. I am very proud of her and love being her teacher!"
Uzun, the 2014-15 recipient of the Georgina Joshi Graduate Fellowship, is in her last semester at the Jacobs School, where she also studied with Andreas Poulimenos.
"It is dazzling how much repertoire we have worked on," said Vaness. "Besides this semester's Handel opera, 'Alcina,' where she scored a wonderful success, we have also worked extensively on Schubert song. She has such a deep love and understanding of the poetry he used and is truly able to communicate with the audience."
Uzun is one of nine finalists who will compete in a public concert on the Met stage this Sunday, accompanied by the Metropolitan Opera Orchestra and broadcast nationwide on the Metropolitan Opera Radio Network. The jury will award approximately five Grand Winner prizes of $15,000 each, and the remaining finalists will receive $5,000 each.
Previous winners of this elite competition, which identifies the best up-and-coming opera singers throughout the nation and Canada, include IU alumni Sylvia McNair (1982), Heidi Grant Murphy (1988), Elizabeth Futral (1991), Angela Brown (1997), Lawrence Brownlee (2001), Jordan Bisch (2005), Jamie Barton (2007) and Michael Brandenburg (2013).
Uzun was raised in Mannheim, Germany, and earned her Bachelor of Voice degree from the University of Music Karlsruhe and Mannheim. Before and during her studies there, she performed at the National Theatre Mannheim. In addition to earning several awards and prizes, she performed at the Young Artists Program of the Baden-Baden Easter Festival in two productions, Pauline Viardot's "Cendrillon" (Armelinde) and W. A. Mozart's "Die Zauberflöte" (Third Maid) with the Berliner Philharmoniker. She has performed with IU Opera Theater as the Mother (Gertrude) in Humperdinck's "Hansel and Gretel" and as Isabella in Rossini's "The Italian Girl in Algiers."
Since the beginning of her studies, Uzun has been supported by the Friedrich Ebert Foundation and the Richard Wagner Foundation. Future engagements include performing the role of Annina in "La Traviata" in Baden-Baden in May with Olga Peretyatko and Rolando Villazon. She has been accepted to the Opera Studio of the Bavarian State Opera in Munich for 2015-16.