WHAT: Euclid Quartet, quartet-in-residence at IU South Bend
WHEN: 8 p.m. Thursday, March 5
WHERE: Auer Hall, IU Bloomington
TICKETS: Admission is free, and no tickets are required.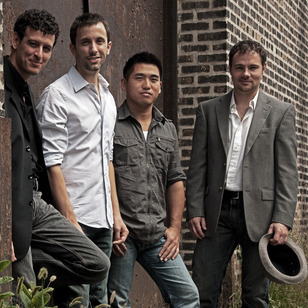 FOR IMMEDIATE RELEASE
March 3, 2015
BLOOMINGTON, Ind. – As part of an inaugural artist exchange, the Indiana University Jacobs School of Music will host the Euclid Quartet from the Ernestine M. Raclin School of the Arts at IU South Bend in a free 8 p.m. performance on Thursday, March 5, in IU Bloomington's Auer Hall.
Formed in 1998, the Euclid Quartet is one of the most well-regarded chamber ensembles of its generation and was appointed to the string quartet residency at Indiana University South Bend in 2007.
The exchange is the result of a generous gift by The Georgina Joshi Foundation that is also credited with the newly renovated Louise E. Addicott and Yatish J. Joshi Performance Hall at IU South Bend. In keeping with the donor's vision, this exchange provides performance opportunities and encourages the support of public performances of music.
"An artist exchange between students and faculty of the Indiana University music schools has been a goal of Louise E. Addicott, founder of The Georgina Joshi Foundation, from the foundation's inception," said Yatish Joshi. "Our daughter, Georgina, frequently talked about how much she learns when exposed to different methods and styles of music performance. We hope this is the first in a regular schedule of exchanges and that all participants and audience members are enriched by the experience."
Captivating audiences and critics ranging from Carnegie Hall to school classrooms to radio and television broadcasts, the Euclid Quartet has performed to great acclaim across the country. The members are a multinational mix representing four continents: violinist Jameson Cooper (Great Britain), violinist Jacob Murphy (United States), violist Luis Enrique Vargas (Venezuela) and cellist Si-Yan Darren Li (China).
In addition to Thursday's performance by the quartet, this year's exchange includes a performance by the IU Jacobs School of Music Latin Jazz Ensemble at 7 p.m. on Tuesday, March 3, at the Campus Auditorium in Northside Hall on the IU South Bend campus. Click here for more information.