FOR IMMEDIATE RELEASE
Feb. 13, 2015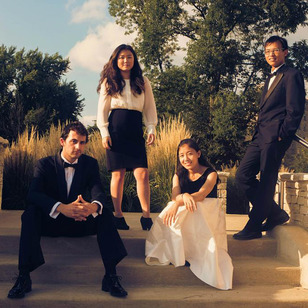 BLOOMINGTON, Ind. – Seven students from the Indiana University Jacobs School of Music will present a concert at the John F. Kennedy Center for the Performing Arts in Washington, D.C., at 6 p.m. on Friday, Feb. 20, in the Terrace Theater. The performance is free and open to the public and will be streamed live on the web. 
The concert is part of the Conservatory Project, an initiative of Performing Arts for Everyone's Millenium Stage series that takes place in February and May and is designed to present the best young musical artists in classical, jazz, musical theater and opera from leading conservatories, colleges and universities around the country. 
Performing this year are Jacobs School of Music students Martha Eason, soprano; Madalyn Parnas, violin; Andreas Ioannides, piano; and the Zorá String Quartet. Members of the quartet include Dechopol Kowintaweewat and Seula Lee, violin; Pablo Muñoz Salido, viola; and Zizai Ning, cello. 
The program includes works by Debussy, Liszt, J. Haydn, R. Strauss, Menotti and Bartók. 
The students will give a preview concert featuring the same program at 12:15 p.m. on Tuesday, Feb. 17, in the Jacobs School's Ford-Crawford Hall. 
About the Artists
Martha Eason is currently pursuing her Master of Music in Voice Performance at the Jacobs School of Music. She earned her Bachelor of Music and Arts Administration from the University of Virginia, where she graduated Phi Beta Kappa from the McIntire Department of Music's Distinguished Majors Program. She has performed as the Second Spirit in Mozart's "Die Zauberflöte" with Ash Lawn Opera and as Eurydice in Offenbach's "Orfée aux Enfers" with University of Virginia Opera Viva. Lean more about Eason. 
Madalyn Parnas has concertized worldwide, performing as soloist with orchestra, chamber musician and recitalist. She has performed with orchestras conducted by Jaime Laredo, John Axelrod, David Alan Miller and Randall Fleisher, among others, collaborated with Peter Serkin in the Parnas/Serkin Trio, taken numerous top prizes in competitions and recorded four albums on two record labels. She also performs with cellist and sister Cicely Parnas as duo parnas. She is currently pursuing her doctorate at Jacobs. Learn more about Parnas. 
A native of Nicosia, Cyprus, Andreas Ioannides was awarded a Licentiate of the Royal School of Music with distinction while still in high school, before moving to the United States to begin his college education. A graduate of the Cincinnati College-Conservatory and the Eastman School of Music, he went on to receive an Artist Certificate at the University of North Texas, studying with Vladimir Viardo. Ioannides is currently pursuing a Doctor of Music degree with Menahem Pressler at the Jacobs School. Learn more about Ioannides. 
The Zorá String Quartet was formed in 2012 at the Jacobs School of Music and has devoted itself to performing chamber music at the very highest level. The ensemble has collaborated with Pulitzer Prize-winning composer Caroline Shaw to perform her works with the Jacobs NOTUS: Contemporary Ensemble and regularly works with the Pacifica Quartet, the school's quartet-in residence. In spring 2014, the quartet was selected to perform and study manuscripts at the Beethoven-Haus in Bonn, Germany. Learn more about the Zorá Quartet.