Joins fellow Jacobs School of Music professor Menahem Pressler and former professor Harvey Phillips in Hall
FOR IMMEDIATE RELEASE
Oct. 31, 2014
BLOOMINGTON, Ind. – It's not often an institution can claim it has a faculty member in the American Classical Music Hall of Fame, let alone claim three. But now the Indiana University Jacobs School of Music can do just that.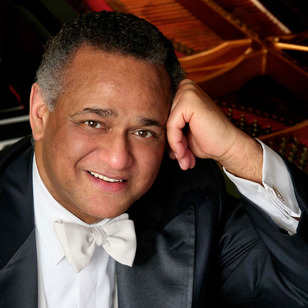 Pianist André Watts, Jack I. and Dora B. Hamlin Endowed Chair in Music at Jacobs, joined fellow legendary pianist Menahem Pressler, distinguished professor and Dean Charles H. Webb Chair in Music, and distinguished professor emeritus Harvey Phillips, as he accepted his inductee medal from the Cincinnati-based Hall of Fame during his Oct. 24 concert with the Cincinnati Symphony Orchestra in its Music Hall.
Pressler was presented with the medal last month during his Sept. 9 concert with the Ariel Quartet at Cincinnati's College-Conservatory of Music. He accepted on behalf of the Beaux Arts Trio, which was inducted in 2012.
"What a pleasure to accept something given to my trio, which I still dearly, dearly love," said Pressler. "And knowing that André also received it makes the award even sweeter and more important to me."
Tuba virtuoso Phillips, who became the first brass player inducted into the Hall—in 2007—died in 2010.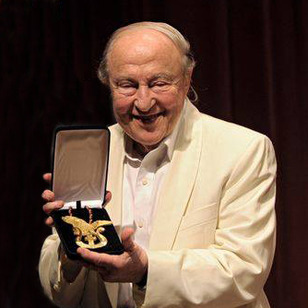 Watts was further honored during the Oct. 24 concert when the Cincinnati MacDowell Society awarded him its MacDowell Medal.
Watts' performance of Piano Concerto No. 2 in D Minor by Edward MacDowell was called "electrifying" and "riveting" by The Cincinnati Enquirer. Music in Cincinnati stated "Watts magisterial in CSO appearance … he is phenomenal."
The Cincinnati MacDowell Society, one of the oldest clubs honoring composer MacDowell in the United States, sponsored the performance of the piece that had not been performed with the orchestra at Music Hall in more than 40 years.
MacDowell, who died in 1908, performed his concerto at Music Hall with the Cincinnati Symphony in 1895, the orchestra's inaugural season.