WHAT: Singing Hoosiers Fall Preview Concert
WHEN: 8 p.m. on Friday, Oct. 3, and Saturday, Oct. 4
WHERE: Auer Hall, IU Bloomington campus
TICKETS: $5 Students, $10 Adults. Available at the Musical Arts Center box office from 11:30 a.m. to 5:30 p.m. Monday through Friday, by phone at 812-855-7433 or online through Ticketmaster.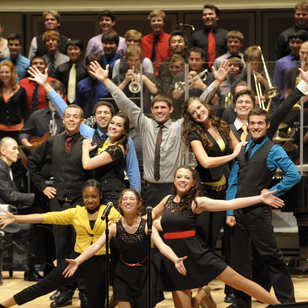 FOR IMMEDIATE RELEASE
Sept. 30, 2014
BLOOMINGTON, Ind. – The Grammy-nominated Indiana University Singing Hoosiers will present their third annual Fall Preview Concert at 8 p.m. on Friday, Oct. 3, and Saturday, Oct. 4.
Directed by Jacobs School of Music professor Steve Zegree and assistant directed by Jacobs faculty member Ly Wilder, the Singing Hoosiers perform music ranging from The Great American Songbook, jazz and Broadway to some of today's most popular songs. Now in its 65th year, the 80-voice group with eight-piece band will perform some of its "greatest hits," as well as numerous pieces that are new to its repertoire, this weekend.
"On behalf of Assistant Director Ly Wilder and the IU Singing Hoosiers, we can't wait to share this year's ensemble with the general public," said Zegree. "You can count on our shows being entertaining, energetic, fun and always family friendly."
The fall concert is a preview to the group's most major performances of the 2014-15 season, including the Chimes of Christmas on Saturday, Dec. 6, at the IU Auditorium, the 65th Anniversary Singing Hoosiers Spring Concert on Saturday, April 11, and performances with the Columbus Indiana Philharmonic and the Carmel (Ind.) Symphony Orchestra. 
The Singing Hoosiers completed a very successful concert tour in Australia in May.
Tickets for Fall Preview are $5 for students and $10 for adults and available at the Musical Arts Center Box Office and online.
Learn more about the Singing Hoosiers at singinghoosiers.org.