FOR IMMEDIATE RELEASE
Sept. 19, 2014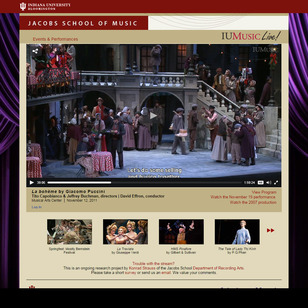 BLOOMINGTON, Ind. – The Indiana University Jacobs School of Music has announced its 2014-15 live streaming schedule, including performances from IU Opera and Ballet Theater. The streaming project provides an opportunity for anyone with a broadband Internet connection anywhere in the world to watch high-definition video of performances taking place on the Musical Arts Center and Auer Hall stages. 
Konrad Strauss, director of the Jacobs Department of Recording Arts, said the department will enable video-streaming of the following productions:
"The Italian Girl in Algiers" by Gioachino Rossini: Sept. 19 and 20, 8 p.m. EDT
"La Bohème" by Giacomo Puccini: Oct. 17 and 18, 8 p.m. EDT
"War Requiem" by Benjamin Britten: Nov. 4, 8 p.m. EST
"The Last Savage" by Gian Carlo Menotti: Nov. 14 and 15; 8 p.m. EST
 "The Nutcracker" by Peter Ilyich Tchaikovsky: Dec. 4, 7  p.m.; Dec. 5, 8 p.m.; Dec. 6, 2 p.m. and 8 p.m.; Dec. 7, 2 p.m. EST
"Alcina" by George Frideric Handel: Feb. 6 and 7; 8 p.m. EST
 "The Magic Flute" by Wolfgang Amadeus Mozart: April 10 and 11; 8 p.m. EDT
All streams may be accessed through the IU Music Live! website at http://music.indiana.edu/iumusiclive. 
Recording Arts will continue its partnership with the Jacobs Musicology Department and IU Radio and Television Services. 
Musicology graduate students will live blog during the performances, contributing musical and historical commentary in real time. Emmy-winning director Jay Kincaid and producer/director John Winninger will direct the webcasts. 
The streaming project was started in November 2007 with a live Internet video stream of Puccini's "La Bohème." Since that time, the project has expanded to include most productions of IU Opera and Ballet Theater, as well as additional concerts each year.
In addition to the live streams, the Jacobs School makes complete productions of IU Opera and Ballet Theater available for on-demand viewing at the IU Music Live! site. Integrated into the educational program of the Department of Recording Arts, all production is done by students as part of their class work. 
Established in 1982, the Jacobs School of Music Department of Recording Arts is one of the leading programs in the country. Emphasizing rigorous academics and hands-on production experience, the department's 50 students provide all audio and video production support for the school's approximately 1,100 performances per year. Alumni have gone onto careers in all areas of the recording and entertainment industry and include record company executives, Oscar and Grammy winners, and gold and platinum record recipients.