FOR IMMEDIATE RELEASE
April 29, 2014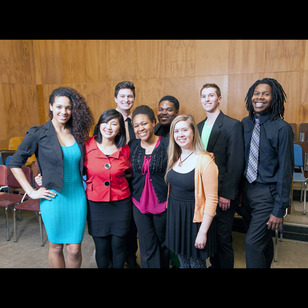 BLOOMINGTON, Ind. – The Indiana University Jacobs School of Music boasts two winners in DownBeat magazine's 37th Annual Student Music Awards, announced today.
IU Vocal Jazz Ensemble I, directed by Steve Zegree, Pam and Jack Burks Professor of Music, has been named the Graduate College Winner in the Small Vocal Jazz Group category.
Jazz voice major Reginald Bowens won in the Graduate Jazz Arrangement category for his vocal arrangement of "Rockin' Jerusalem." He is a first-year master's student studying with faculty member Ly Wilder.
DownBeat magazine recognizes outstanding university ensembles and soloists in several categories (through blind auditions), and the prestigious awards are considered one of the top student music competitions in the world.
According to Tom Walsh, chair of the Jacobs Jazz Studies Department, "There is a lot of talent in Vocal Jazz Ensemble I, and it is very impressive that the group won the DownBeat Award on its first try."
"It is a tremendous honor for our students to receive a DownBeat Award," said Zegree. "This recognition places our new jazz voice program at IU among the very best, and I am proud of our students' hard work and this achievement."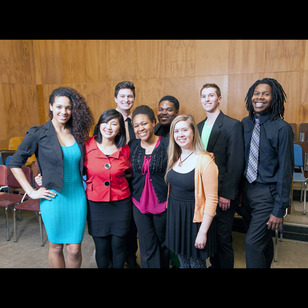 "Reginald is a tremendous talent, and we are so pleased that his writing has been recognized by DownBeat magazine as outstanding among his peers," said Wilder. 
IU Vocal Jazz Ensemble I is the top vocal jazz ensemble from the Jacobs School of Music and is committed to the highest artistic standards in all areas of contemporary vocal music.
From Cleveland, Ohio, Bowens earned an undergraduate degree in jazz piano from Howard University, where he sang in the vocal group Afro-Blue, which appeared as a finalist on NBC's "The Sing-Off."
Alumni of the Jacobs School Jazz Studies Department can be found around the world working in every facet of the music business. Included in this elite group are Grammy Award-winners Randy Brecker, Michael Brecker, Chris Botti, Peter Erskine, John Clayton, Jerry Hey, Robert Hurst III, Shawn Pelton, Jim Beard and Jeff Hamilton, among others.