FOR IMMEDIATE RELEASE
Feb. 28, 2014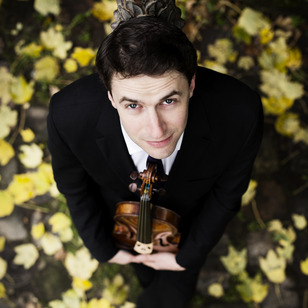 BLOOMINGTON, Ind. – Indiana University Jacobs School of Music alumnus Noah Bendix-Balgley was recently named first concertmaster of the Berlin Philharmonic, one of the world's most prestigious orchestras.
"I am thrilled to have won the audition for first concertmaster of the Berlin Philharmonic," said Bendix-Balgley, 29. "It is a dream come true for me to join such an incredible and storied ensemble. I will be sad to leave the wonderful Pittsburgh Symphony Orchestra though, where I have been concertmaster since 2011."
Bendix-Balgley studied with Mauricio Fuks at the Jacobs School of Music, where he received a bachelor's degree in 2005.
"I actually started studying with Mr. Fuks in 1997, and I continued with him through my undergraduate years," said Bendix-Balgley. "He is one of the great violin pedagogues working today, and I was lucky to study with him from an early age. I also gained significant orchestral experience as a student at IU. I particularly enjoyed the operas I played and working with David Effron, who is a wonderful musician and supported me greatly, even after I had left Indiana."
"I am delighted by the news of Noah's appointment as first concertmaster of the Berlin Philharmonic," said Fuks. "As his teacher, I am very proud of his extraordinary accomplishment and wish him great success as he embarks upon this new and exciting chapter of his artistic life."
Bendix-Balgley has thrilled and moved audiences around the world with his performances. He is a laureate of the 2009 Queen Elisabeth Competition in Brussels and won third prize and a special prize for creativity at the 2008 Long-Thibaud International Competition in Paris. He won first prize at the 2011 Vibrarte International Music Competition in Paris, as well as first prize and a special prize for best Bach interpretation at the 14th International Violin Competition "Andrea Postacchini" in Fermo, Italy.
Bendix-Balgley has appeared as a soloist with the Pittsburgh Symphony Orchestra, Orchestre Philharmonique de Radio France, Orchestre National de Belgique, I Pomeriggi Musicali of Milan, Orchestra Filarmonica Marchigiana (Italy), Orchestre Royal Chambre de Wallonie (Belgium) and Binghamton Philharmonic and Asheville Symphony (U.S.).
In 2011, he was appointed concertmaster of the Pittsburgh Symphony Orchestra. His Pittsburgh debut recital, in January 2012, was named the "Best Classical Concert of 2012" by the Pittsburgh Post-Gazette. Bendix-Balgley's performance with the Pittsburgh Symphony Orchestra of the Beethoven Violin Concerto, featuring his own original cadenzas, was acclaimed by critics and audiences alike. In addition, he performed his own version of "The Star-Spangled Banner" for solo violin in front of 39,000 fans at the Pittsburgh Pirates Opening Day at PNC Park.
Bendix-Balgley is a passionate and experienced chamber musician. He has performed on North American tour with the Miro String Quartet. From 2008 to 2011, he was the first violinist of the Munich-based Athlos String Quartet, which won a special prize at the 2009 Felix Mendelssohn-Bartholdy Competition in Berlin and performed throughout Europe. He has performed with artists including Gidon Kremer, Yuri Bashmet, Gary Hoffman, Emanuel Ax, Ralph Kirshbaum and percussionist Colin Currie.
He has appeared at numerous festivals in Europe and North America, including the Verbier Festival, Sarasota Festival, ChamberFest Cleveland and Chamber Music Connects the World in Kronberg, Germany.
Born in Asheville, N.C., in 1984, Bendix-Balgley began playing violin at age 4. At age 9, he played for Lord Yehudi Menuhin in Switzerland. He graduated from the Indiana University Jacobs School of Music and the Munich Hochschule. His principal teachers were Mauricio Fuks, Christoph Poppen and Ana Chumachenco.
In his spare time, he enjoys playing klezmer music. He has played with world-renowned klezmer groups such as Brave Old World and has taught klezmer violin at workshops in Europe and the U.S. He recently joined the faculty of the Carnegie Mellon University School of Music as an artist lecturer in chamber music.
Bendix-Balgley performs on a Cremonese violin made in 1732 by Carlo Bergonzi. His first recital CD, "A Musical Tour of the early 20th Century" (Anima Records) was recorded in Switzerland in May 2011.