FOR IMMEDIATE RELEASE
February 6, 2014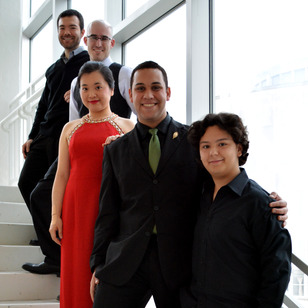 Bloomington, IN – The Indiana University Jacobs School of Music's Latin American Music Center (LAMC) is pleased to announce Bruno Sandes and Hanmo Qian as the winners of the Fourth Latin American Music Recording Competition, held Feb. 2 in Auer Hall.
Barbara and David Jacobs Scholar Bruno Sandes is a sophomore student studying voice with Professor Robert Harrison. Hanmo Qian is a doctoral piano student of Professor Karen Shaw. As winners of the competition, Sandes and Qian will record a professional CD, produced by the LAMC, and will perform a concert at the winner's recital March 6 at 8:00 pm in Auer Hall. 
This year's final round featured three finalists in mini recitals of approximately 20 minutes each. Repertoire selections included music from Argentina, Brazil, Venezuela, and Mexico. Sandes and Qian's performance focused on works by 20th century Brazilian composers Waldemar Henrique (1905-95,) Osvaldo de Souza (1904-95,) M. Camargo Guarnieri (1907-93,) and Marlos Nobre (b. 1939.) The other two finalists were saxophonist Ricardo Martinez and harpist Emmanuel Padilla, students of Professor Otis Murphy and Distinguished Professor Susann McDonald, respectively. 
"Besides the anticipated excellence and musicianship at the performance level, this year we were particularly impressed by the quality of the students' proposals," stated Erick Carballo, interim director of the LAMC. "In them, students explain why their repertoire selections should be produced as a CD, introducing, among other things, pertinent information about the music, the composers, and the historical and cultural use of their instruments." Carballo added: "I want to highlight the advice and support that the students received from their respective teachers. It is precisely contributions like theirs that continue to improve the level of the competition each year." 
This year's jurists included Jacobs School of Music faculty Javier Arrebola, Gretchen Horlacher, and Thomas Walsh; guest and Jacobs School of Music alumna Erzsébet Gaál; and visiting Fulbright Scholar Cristina Capparelli-Gerling. 
The LAMC's competition is a continuation of the Annual Competition in the Performance of Music from Spain and Latin America that started in 1998. In 2011, when the LAMC celebrated its fiftieth anniversary, the format was changed to focus on Latin American music, with a grand prize of a professional recording project. Financial support for this event is now provided by the Guillermo and Lucille Espinosa Fund for Artistic and Research Projects of the Latin American Music Center. 
Past winners of the competition are violinist Colin Sorgi and pianist Jooeun Pak, who recorded the CD "Eco de violín: A Collection of New Latin American Music for Violin with Piano and Electronics"; Daniel Inamorato, winner of the second Latin American Music Recording Competition, who recorded "Danza del Parque de las Acacias"; and Nicolas Mariscal, winner of last year's competition, who recorded "Nubes bajas: A Collection of Solo Cello Music from Latin America." All these recordings are currently commercially available through the Jacobs School of Music Marketplace, Amazon, iTunes, and CD Baby. 
For more information please visit the LAMC's website: music.indiana.edu/lamc