FOR IMMEDIATE RELEASE
January 15, 2014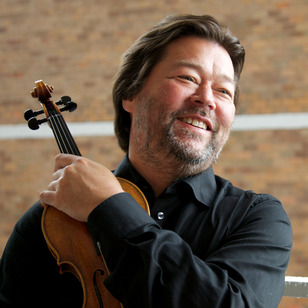 BLOOMINGTON, Ind. – The Indiana University Jacobs School of Music is pleased to announce the appointment of violinist and conductor Joseph Swensen as professor of music (violin), effective fall 2014, pending approval of the Trustees of Indiana University.  
"Joseph Swensen comes to us with a world-class professional profile," said Stephen Wyrczynski, chair of the Jacobs String Department. "This is an exciting hire, and the faculty is thrilled to have him as a colleague."  
Swensen has been visiting professor of music (violin) at the Jacobs School since fall 2013.
"I am honored and inspired by my appointment as professor of violin at Indiana University," said Swensen. "During the course of my last four months as visiting professor, my partner, Vicki, and I have had the opportunity to make some very dear friends among my colleagues at IU, and I have enjoyed my students profoundly. We look forward with enthusiasm to making our home in beautiful Bloomington and joining the IU community as of the 2014-15 school year."
A recipient of the Leventritt Foundation Sponsorship and the Avery Fisher Career Award, Joseph Swensen has appeared as violin soloist with orchestras including those of Cleveland, Los Angeles, St. Louis, Montreal, Pittsburgh, Minnesota, Baltimore, London, Paris, Vienna, Berlin, Munich, Amsterdam, Stockholm, and Tokyo. He has performed in recital and in chamber music concerts at Carnegie Hall, Lincoln Center, and the Kennedy Center, as well as in Los Angeles, San Francisco, and Boston, to name  a few. As an exclusive recording artist with BMG Classics and later with Linn Records, his recordings of the major violin concerto repertoire with conductors like André Previn and Jukka-Pekka Saraste have received consistently high acclaim.
Swensen currently holds the post of conductor emeritus of the Scottish Chamber Orchestra. His wide-ranging conducting career recently included the positions of principal conductor of the Malmo Opera (Sweden) and the Scottish Chamber Orchestra, and principal guest conductor and artistic adviser of the Orchestre de Chambre de Paris, in addition to posts with the BBC National Orchestra of Wales and the Lahti Sinfonia (Finland).
Swensen was born in Hoboken, N.J., and raised in Harlem, N.Y., by a Japanese-American mother and a Norwegian-American father, both of whom are professional musicians. He attended Juilliard from the age of seven, first as a piano student of Thomas Schumacher and Christopher Sager and then, at the age of nine, as a violin student of Dorothy Delay. He studied chamber music with Robert Mann and other members of the Juilliard Quartet, Leonard Rose, and Felix Galimir. He studied composition with David Diamond and Vincent Persechetti, and coached privately with Isaac Stern over a 10-year period.
A passionate chamber musician, Swensen performs in recital with pianist Jeffrey Kahane, and with his newly formed trio, KahaneSwensenBrey, alongside Kahane and cellist Carter Brey.
As an active guest conductor, Swensen has appeared with the Los Angeles Philharmonic and the Toronto, St. Louis, Rochester, Colorado, and New World symphonies, among others in North America. He has also worked with the London Philharmonic, Philharmonia Orchestra (London), City of Birmingham Symphony Orchestra, Halle Orchestra, Oslo and Stockholm Philharmonics, Orchestre du Capitole de Toulouse (where he recently completed his first Mahler Symphony cycle), and the Finnish and Swedish Radio Orchestras, among many others in Europe. Among his numerous appearances in 2014 will be an appearance as guest conductor of the London Philharmonic.
As a composer, Swensen's works include "Mantram" (1998) for string orchestra, "Latif" (1999) for solo cello with chamber ensemble, "Shizue" (2001) for solo shakuhachi and orchestra, and the recently premiered "Sinfonia-Concertante for Horn and Orchestra" ("The Fire and the Rose") (2008). His orchestration of the rarely performed 1854 version of Brahms' Trio Op. 8, a work Swensen titled "Sinfonia in B," has been performed widely by orchestras in Europe and the U.S. since its première in 2007. In early 2012, the world premiere recording of "Sinfonia in B" was released to wide critical acclaim on Signum records, along with orchestrations by Swensen of works originally for violin and piano by Robert Schumann, Clara Schumann, and Johannes Brahms.
Swensen, along with his partner, Victoria Eisen, are the founders and directors of the non-profit organization Habitat4Music (H4M). Habitat4Music connects highly qualified, passionate, young American-trained classical musicians with children living in challenged areas across the world. H4M seeks to empower these children by way of long-term, committed, participatory music education while providing an invaluable and unforgettable experience for their young mentors.