FOR IMMEDIATE RELEASE
Dec. 2, 2013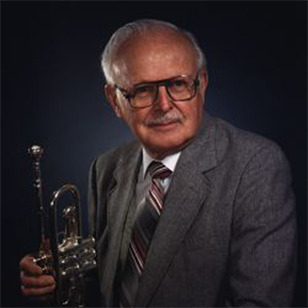 BLOOMINGTON, Ind. – The Indiana University Jacobs School of Music mourns the loss of Professor Emeritus William (Bill) Adam, 96, who died on Nov. 25 at the Indiana University Health Hospice House in Bloomington.
Adam taught trumpet at the Jacobs School of Music for 42 years, from 1946 to 1988. After his retirement, he continued to teach privately at his home through Oct. 14, 2013. He is widely considered to have been one of the greatest trumpet pedagogues of the 20th century.
"If it was not for William Adam and his philosophy of teaching, I might very well have quit playing the trumpet in my mid-twenties," said John Rommel, Jacobs professor of trumpet, who knew Adam for the past 30 years and studied with him privately. "His inspirational approach to teaching and dedication to his students made him one of the most influential trumpet teachers of the 20th and early 21st centuries. All those who studied with him take great pride in sharing his natural approach to playing the trumpet with their students. This ensures that his philosophy of teaching, caring and personal attention to his students will be continued for generations to come."
Adam was born on Oct. 21, 1917, in Kansas City, Kan., to Andrew Walker Adam and Wilda Blose Adam. He grew up in Fort Collins, Colo., graduating from Fort Collins High School at the age of 16. He began taking trumpet lessons at the age of seven from Ben Foltz, third cornetist with the John Philip Sousa Band.
When Adam was 11 years old, he hitchhiked from Fort Collins to Denver twice a week to study trumpet with John S. Leick, who was the first trumpet player in the Denver Symphony Orchestra. Adam left home at the age of 16 to play professional trumpet in California in the Hal Kemp orchestra with Skinnay Ennis; he also played for the Lucky Strike Hit Parade, the Los Angeles Civic Orchestra and numerous radio shows.
During the years he was in California, Adam attended Pasadena Jr. College and the University of California in Los Angeles. In the summers, he played at the Fairmont Hotel in San Francisco with Ennis, and with the Joseph Serpico band at the Yellowstone Grand Canyon Hotel.
He returned to Ft. Collins to join the army at Ft. Logan during World War II. Due to a previous injury he was unable to pass the physical for active duty but worked at the Remington Arms Munitions Factory for six months. Adam then attended both the University of Colorado at Denver and Colorado State College in Ft. Collins, earning his bachelor's degree in trumpet performance.
Adams' first teaching job was as band director at Rifle High School in Rifle, Col., in l940. He was there for one year before taking a job as band director at Englewood High School just outside Denver so he could play professionally. On the weekends, he played at the Brown Palace Hotel. He was first trumpet for the KOA Radio orchestra and played with the Denver Symphony Orchestra. During the summers, he attended Eastman School of music, earning master's degrees in music theory and composition from l947 to 1948.
Adam taught at Englewood High School for three years, where he met the love of his life, Dorothy Tiemann. They were married in February l945. He took a job at the Indiana University Jacobs School of Music in the fall of 1946, where he taught trumpet for 42 years, retiring in l988. After his retirement, he continued to teach trumpet privately at his home through Oct. 14, 2013.
Throughout his career, he earned numerous awards, including the 2002 Robert A. Phillips Service to Music Award, Mentor of Trumpet Players World Wide, the 2004 James B. Calvert Outstanding Music Educator Award from the Indiana Wind Symphony and the 2004 Lifetime Trumpet Teaching Award from the International Trumpet Guild.
He is survived by his three children and their spouses: Donald Walker Adam and Rita Hambidge Adam, Diane Adam Davis-Deckard and Donald L. Deckard, and William Walker Adam and Pam Faith; five grandchildren: William Lee Davis, Andrew Walker Adam, Haley Summer Adam, William Alexander Adam and Malcolm Walker Adam; one great-grandchild: Graham Bertram Davis; a sister: Elizabeth Adam Ward, a niece, two nephews, two cousins and their families, and hundreds of devoted trumpet students. He was preceded in death by his parents and an infant son, William Alexander Adam.
There will be no funeral and no visitation. A memorial service and celebration of life will be planned at a later date. Allen Funeral Home is handling arrangements.
The family requests no flowers. Memorial contributions can be made to the William Adam Trumpet Scholarship through the Indiana University Foundation.
On-line condolences may be expressed at caringbridge.org/visit/williamadam.
In addition, the Jacobs School of Music has created a blog for comments as well.