FOR IMMEDIATE RELEASE
BLOOMINGTON, Ind. -- Long-vanished voices and sounds resurrected through technology by Indiana University sound media historian Patrick Feaster and a jazz album by IU Jacobs School of Music professor Wayne Wallace's quintet both drew 2014 Grammy nominations.
Feaster's book and CD set, titled "Pictures of Sound: One Thousand Years of Educed Audio: 980-1980," is nominated for a Grammy Award for Best Historical Album. The compilation details Feaster's use of innovative digital techniques to convert images of historical sounds directly into playable audio. That includes what is believed to be the oldest gramophone record available anywhere for listening today: inventor Emile Berliner's recitation of Friedrich Schiller's ballad "Der Handschuh," played back from an illustration in a magazine Feaster stumbled upon in the stacks at the Indiana University Herman B Wells Library.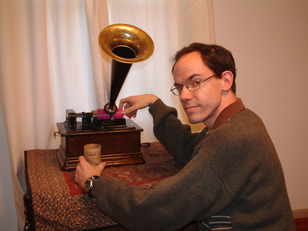 "This nomination, which is my third, is very exciting to me because it's the first nomination for a project that is so distinctly my own," Feaster said. "But I'm perhaps most pleased because the fact that the project was even nominated represents a huge step in the recognition of this area of historic audio. A major point of my book is the argument that materials like these count as sound recordings, whereas others would say they don't, they're too different."
Wallace's latest album with the Wayne Wallace Latin Jazz Quintet, titled "Latin Jazz/Jazz Latin," is nominated for a Grammy Award for Best Latin Jazz Album.
Wallace, a jazz trombonist, joined the Jacobs School as a professor of practice in the fall. Widely considered one of the most respected musicians in the African American/Latin music genre, this is his sixth Grammy nomination.
"It's an honor to be recognized by your peers and the people whose work you've admired over the years. It gives you a feeling that you're doing the right thing, which is about all you can really ask for as you progress in your career," Wallace said. "This album intrigued me since our front-line melodic instruments were a violin, trombone and flute, so it's been really cool to see people respond the same way once they heard the record.
"As a quintet, we've been refining our craft not only as individual musicians but as a group, so I find it more than gratifying that at this point in my career there are still challenges and things we can do to be better musicians."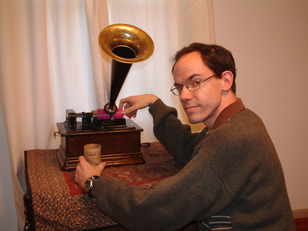 IU associate professor of music and world-renowned percussionist Michael Spiro is also a member of the Wayne Wallace Latin Jazz Quintet and is a co-writer and principal player on this project.
A number of Indiana University alumni took part in albums, soundtracks, music films and instrumental compositions that received nominations. They include:
Joshua Bell, violin, "The Standards," Best Traditional Pop Vocal Album.
Randy Brecker, trumpet, "Night in Calisia," Best Large Jazz Ensemble Album.
John Clayton and Robert Hurst, bass, and Jeff Hamilton, drums, "Live Kisses," Best Music Film.
Peter Erskine, drums, "After Blue," Best Jazz Vocal Album; and "Intrada," Best Large Jazz Ensemble Album.
Matt Holman, trumpet, "Brooklyn Babylon," Best Large Jazz Ensemble Album.
Dave Slonaker, trombone, "Intrada," Best Large Jazz Ensemble Album.
Straight No Chaser, background vocals, "Cee Lo's Magic Moment," Best Traditional Pop Vocal Album.
Michael Valerio, bass, "Attachments," Best Jazz Vocal Album; and "Argo," "The Life of Pi" and "Lincoln," all for Best Score Soundtrack for Visual Media.
Scott Wendholt, trumpet, "March Sublime," Best Large Jazz Ensemble Album.
Jack Wilkins, saxophone, "Bound Away," Best Instrumental Composition.