WHAT: "Werther" by Jules Massenet
WHEN: 8 p.m. on Friday and Saturday, Oct. 25 and 26, and Nov. 1 and 2
WHERE: Musical Arts Center, 101 N. Jordan Ave.
TICKETS: Purchase tickets at the Musical Arts Center box office from 11:30 a.m. to 5:30 p.m. Monday through Friday, by phone at 812-855-7433 or online at music.indiana.edu/opera. A discounted price is available for all students.
VIDEO STREAMING: Oct. 25 and 26 only. Featuring live blogging by musicology students.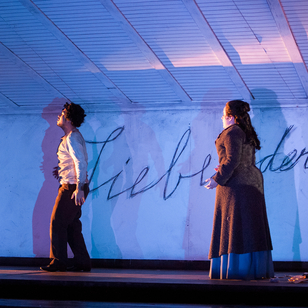 BLOOMINGTON, Ind. — Indiana University Opera Theater will present Jules Massenet's tragic "Werther" for the first time in 38 years at 8 p.m. on Oct. 25 and 26, and Nov. 1 and 2 in Bloomington's Musical Arts Center.
Michael Brandenburg, a winner in the Metropolitan Opera National Council Auditions Grand Finals last March and a student of Timothy Noble, will perform the title role opening and closing nights. Lorenzo Garcia, a student of Robert Harrison, will perform the lead on Oct. 26 and Nov. 1.
Stage director Candace Evans returns to IU Opera for the third year in a row, with her previous credits here being "Candide" and last season's "Akhnaten."
"Who among us has never felt unrequited affection or had a relationship go wrong?" said Evans. "'Werther' is a magnificent musical and psychological exploration of romance, obsession and the desire for poetry in our daily existence."
The story follows Werther, a sensitive young poet, and his psychological decline when he falls in love with a woman who is promised to another.
Based on Goethe's partially autobiographical novel "The Sorrows of Young Werther," the characterizations and storyline are so intricately woven with the score that the emotional music becomes almost palpable said Evans.
"The music is lush and gorgeous, the voices are wonderful and the staging is very lively and imaginative," said conductor Ronald Zollman, whose previous productions with IU Opera Theater include "Manon," "Roméo et Juliette" and "Cendrillon."
Sets and costumes are from Minnesota Opera.
"Although 'happily ever after' is no more often the case in life than in opera, it's always cathartic for us to soar with the romantic hopes of young lovers," said Evans. "'Werther' is truly grand French opera, which I think is, in and of itself, a very intoxicating reason to come."
Visit the "Werther" site, featuring video interviews with members of the artistic team and cast, and more.
The Oct. 25 and 26 performances of "Werther" will be live-streamed via the IU Music Live! site.