Charles H. Webb Music Scholarship Fund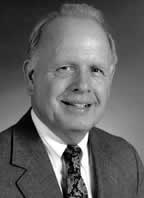 The son of a devout Methodist banking family in Dallas, Texas, Charles Haizlip Webb first studied music when he was four years old. He tried to play on the piano at home the songs he heard at church, and so his mother suggested that he begin lessons. Years later, he studied at Southern Methodist University, where he opted for music over banking. In the summer after his freshman year, Dr. Webb joined the late Fred Waring's touring choral-music workshops as accompanist and later became dean of that group. Waring encouraged him to pursue a career as a professional musician.
After graduating from SMU and while in the Air Force, Dr. Webb met his wife Kenda and together they have raised four sons. He went to Indiana University to pursue his doctorate in 1958 and joined the faculty in 1960 as instructor in music and manager of Musical Organizations. He was appointed assistant dean in 1964, associate dean in 1969, and on July 1, 1973 Dr. Webb became dean of IU Jacobs School of Music. During his 24 years of leadership, the Jacobs School of Music was ranked four times in national surveys as the best music school in the country and developed a prestigious international reputation.
While accomplishing the administrative duties associated with the largest music school in the world, Dr. Webb maintained an active performance schedule as conductor, pianist, and organist.
The Charles H. Webb Music Scholarship was created in 1997 in honor of his retirement. The scholarship is awarded annually to students enrolled at IU Jacobs School of Music.