Margaret E. Hillis Memorial Scholarship in Choral Conducting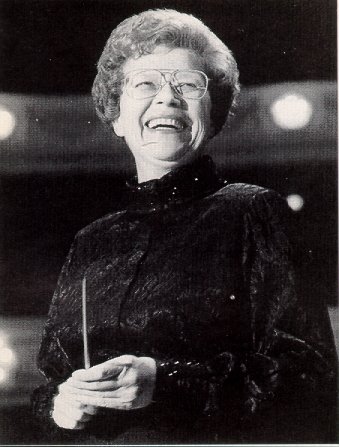 Margaret E. Hillis was the sister of Elwood "Bud" H. Hillis and the aunt of Jeffrey H. Hillis. She was an American conductor and the founder and first director of the Chicago Symphony Chorus.
Margaret Hillis was born in Kokomo, Indiana in 1921. She began to study the piano at the age of five and continued with several other instruments, including woodwinds, brass, and double bass. She made her conducting debut, while still a student, as assistant conductor of her high school orchestra.
After suspending her studies during World War II to become a civilian flight instructor in Muncie, Indiana, she received a bachelor of music degree in composition from Indiana University in 1947 and later studied conducting privately with Julius Herford and with Robert Shaw at the Juilliard School.
She later became assistant conductor of Shaw's Collegiate Chorale. In 1950, Margaret Hillis founded the Tanglewood Alumni Chorus, which later performed as the New York Concert Choir and Orchestra. She also worked as a choral conductor for the New York City Opera and the American Opera Society. During her years in New York, she taught choral conducting at the Juilliard School and Union Theological Seminary. From 1970 to 1977, she was Director of Choral Activities at Northwestern University in Evanston, Illinois.
In 1957 Margaret Hillis was asked by then Chicago Symphony Orchestra music director and conductor Fritz Reiner, to form the Chicago Symphony Chorus. Under her direction, the Chorus performed hundreds of times including national and international tours. The Chorus became recognized as one of the great choral organizations of the world, winning nine Grammy awards.
Margaret Hillis' early ambitions to conduct an orchestra were stymied by the male domination of the field. She was advised to try choral conducting instead. She fulfilled her orchestral dreams later in life by becoming the first woman to conduct the Chicago Symphony Orchestra. She went on to conduct the CSO many times.
Margaret Hillis captured nationwide attention in 1977, when she substituted on short notice for the ailing Sir George Solti, conducting the Chicago Symphony Orchestra and Chorus in a performance of Gustav Mahler's Symphony No. 8 in New York's Carnegie Hall. She subsequently made many guest conducting appearances with orchestras throughout the United States. She blazed a trail for female conductors both artistically and societally.
She was also the founder and music director of the American Choral Foundation (now Chorus America), an organization that sought to raise the standards of choral performance. In 1992, she conducted the Interlochen Arts Academy Orchestra and Choir as part of the Mozart Bicentennial Celebration in Alice Tully Hall in Lincoln Center, New York.
Margaret Hillis was awarded an honorary doctorate degree from the Jacobs School of Music in 1972.
Prior to her death, Hillis bequeated her personal collection of scores, books, and other memorabilia to the Chicago Symphony Orchestra's Rosenthal Archives. Included are numerous sound recordings as well as scores and parts bearing her personal markings and analyses, Grammy Awards and other certificates and mementos, photographs, and personal papers and correspondence.
Elwood "Bud" Hillis and Jeffrey Haynes Hillis established this scholarship in memory of their sister and aunt, Margaret Hillis. Elwood Hillis is a 1949 graduate of the IU Kelley School of Business with a B.S. in Business and a 1952 graduate of the IU Maurer School of Law with a J.D. He also holds an honorary Doctor of Laws from IU Kokomo, which was bestowed in 1998. He served as Representative to the United States Congress from Kokomo, Indiana, for eight terms (1971-87). Margaret was Bud's sister and the two are the only sister and brother recipients of the IU Alumni Association's Distinguished Alumni Service Award.
Jeffrey Hillis is a 1974 graduate of the IU Kelley School of Business with a B.S. in Transportation and a 1977 graduate with his M.B.A. in Accounting. Margaret was Jeff's aunt and the two of them became very close with one another later on in life.
The Jacobs School of Music is proud to have known Margaret Hillis, and is honored to present the Margaret E. Hillis Memorial Scholarship in Choral Conducting to graduate students pursuing a degree in choral conducting.