Murray Grodner Double Bass Scholarship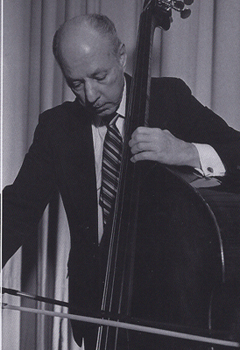 The Murray Grodner Double Bass Scholarship was established by the students, friends, and family of Murray Grodner in celebration of his 90th birthday.
Murray Grodner served as Professor of Double Bass at the Jacobs School of Music for over 30 years from the 1950's to the 1980's. At age 20, Grodner held the Assistant Principal Bass position in the Pittsburgh Symphony under Fritz Reiner. A few years later, he performed with an Army band during WWII along with members of the New York Philharmonic, and with pianists, Gyorgy Sandor and Joseph Levine.
He has since held positions of Principal Bass with Houston Symphony and in the NBC Symphony under Arturo Toscanini. His teaching has allowed his students to follow in his path, claiming positions in major symphonies throughout the US as well as internationally.
He is well known for his book on performance practices, A Double Bassist's Guide to Refining Performance Practices and Comprehensive Catalog of Music, Books, Recordings, and Videos for the Double Bass.
The Murray Grodner Double Bass Scholarship is awarded to students at the Jacobs School who are majoring in Double Bass.