Freda and Walter Kaufmann Prize in Musicology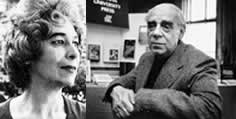 The Freda and Walter Kaufmann Prize in Musicology was established by family and friends of Distinguished Professor Walter Kaufmann and his wife Freda. It is awarded to a Musicology student who has demonstrated excellence in all aspects of graduate study and has shown professional initiative through conference presentations, publications, or other activities.
Walter Kaufmann was born in 1907 in Karlsbad in what was then the Austro-Hungarian Empire. He received his initial music training from his uncle Moritz Kaufmann with regular visits to Prague for violin lessons. He attended Berlin's Musikhochschule, where he studied composition with Franz Schreker and musicology with Curt Sachs, who introduced him to the music of India. In 1927 he enrolled at Prague's German University, meeting many leading musicians and intellectuals: the violinist and composer Josef Suk and the writers Franz Werfel, Max Brod, Otto Pick, and Willy Haas, all of whom had been members of Franz Kafka's circle. Kaufmann rented a room from Kafka's mother, and Kafka's niece Gerty Hermann, whom he later married, accompanied him to plays and concerts. By his mid-twenties, Kaufmann was assisting Bruno Walter and conducting at summer festivals, his works regularly broadcast from Prague, Vienna, and Berlin.
Kaufmann left for India in February 1934, having discovered that his doctoral supervisor was also overseeing a local Hitler Youth troop. His decision was encouraged by the sale of the performance rights to his operetta Die weiße Göttin (The White Goddess). That September, Kaufmann's marriage to Gerty Hermann was formalized in an extraordinary proxy union in Prague, witnessed by both sets of parents.
Within a year of his arrival in Bombay, Kaufmann was appointed Director of European Music at the local station of All India Radio (AIR). He also established the Bombay Chamber Music Society, which presented over 500 weekly concerts over the course of his twelve-year Indian sojourn. In addition to broadcast duties, Kaufmann immersed himself in India's indigenous music, travelling as far as Nepal. He also composed symphonic works, concertos, chamber music, incidental music for radio dramas, several film scores, and AIR's famous station theme, a melody still played every morning and familiar to literally billions of listeners.
Kaufmann had long dreamt of a Broadway or Hollywood career, and within three years of his arrival in Bombay he was writing to his friend the physicist Albert Einstein for advice (as a student in Berlin, Kaufmann had provided piano accompaniment to Einstein on violin). Despite Einstein's help and encouragement, Kaufmann had to wait until the end of World War II to leave India. In 1946 he moved to London, where he scored two documentaries for The Rank Organisation and, at the invitation of Sir Adrian Boult, conducted occasional concerts with the BBC Theatre Orchestra. A year later he relocated to Canada and became head of the piano department at Nova Scotia's Halifax Conservatory.
In September 1948, with enthusiastic recommendations from both Sir Adrian Boult and Sir Ernest MacMillan, the Winnipeg Symphony Orchestra chose Kaufmann as the ensemble's first professional conductor. His reputation and European connections attracted international soloists, and he became a central figure in Winnipeg's vibrant cultural life. A fervent advocate of early musical education, he organized children's concerts, established relationships with the city's schools, and collaborated with the Winnipeg Ballet.
Kaufmann's second wife Freda Trepel, whom he married in 1951, was a local pianist and one of four highly musical sisters. Confident, poised, and glamorous, she had appeared with the Chicago, Minneapolis, and Toronto Symphony orchestras, performed recitals in Europe, and worked with conductor Dimitri Mitropoulos.
The Kaufmanns came to Indiana University in 1957, when Walter accepted a position as Professor of Musicology. Freda meanwhile shifted her attention from performance to teaching. Walter published several extraordinarily detailed books in short order: studies of both North and South Indian ragas, an examination of Tibetan Buddhist chant, and the exhaustive Musical Notations of the Orient. These books remain seminal texts and secured his reputation as a world authority on music outside Western traditions. He later became the first member of the Musicology Department faculty to be named a Distinguished Professor.
Walter Kaufmann was admired not only for his abilities and achievements as a musicologist, teacher, conductor, and composer, but for his humor, compassion, and integrity. He was revered by his students, and his final lecture of the semester was invariably accompanied by an appreciative ovation. He died of congestive heart failure in 1984, and Freda died six years later.
The Kaufmann Archive in the William and Gayle Cook Music Library is the major repository of Kaufmann's works, with further scores at Harvard University's Houghton Library and in various private collections. There are more than eighty works with orchestra, including six symphonies, several concertos for solo piano, violin, or cello, and all manner of shorter, programmatic works. There are also more than two dozen operas, of various length and complexity, as well as pieces for children, songs, compositions for solo piano, and chamber works. The music of India found its way into many of his works. Several of his operas were premiered by Indiana University Opera Theater, including A Parfait for Irene and A Hoosier Tale.