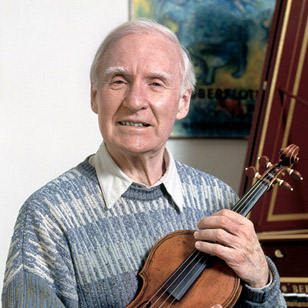 View full resolution
Phone:

812-855-6735

Email:

sritchie@indiana.edu
Department:

Historical Performance, Historical Performance Institute, Strings, Violin
Merrill Hall, MU115

Education
D.S.C.M., Sydney Conservatorium of Music, 1956
Biography
Stanley Ritchie is distinguished professor of music in violin and early music at the Indiana University Jacobs School of Music, where he joined the faculty in 1982.
A pioneer in the early music field in America, he was born and educated in Australia, graduating from the Sydney Conservatorium of Music in 1956. He left Australia in 1958 to pursue his studies in Paris with Jean Fournier, continuing in 1959 in the United States, where he studied with Joseph Fuchs, Oscar Shumsky, and Samuel Kissel.
In 1963, Ritchie was appointed concertmaster of New York City Opera and served as associate concertmaster of the Metropolitan Opera from 1965 to 1970. From 1970 to 1973, he performed as a member of the New York Chamber Soloists and served as assistant concertmaster of the Vancouver Symphony from 1973 until 1975, when he joined the Philadelphia String Quartet—in residence at the University of Washington in Seattle—as first violinist.
His interest in baroque and classical violin dates from 1970, when he embarked on a collaboration with harpsichordist Albert Fuller, which led to the founding, in 1973, of the Aston Magna summer workshop and festival. In 1974, Ritchie joined harpsichordist Elisabeth Wright in forming Duo Geminiani. The duo's 1983 recording of the Bach Sonatas for Violin and Obbligato Harpsichord earned immediate critical acclaim.
He has performed with many prominent musicians in the early music field, including Hogwood, Gardiner, Bruegghen, Norrington, Bilson, and Bylsma, and was a member of the Mozartean Players for 20 years, with fortepianist Steven Lubin and cellist Myron Lutzke. Ritchie has appeared as soloist or conductor with a number of major early music orchestras, among them the Academy of Ancient Music, Tafelmusik, Philharmonia Baroque Orchestra, and the Handel and Haydn Society Orchestra.
Recognized as a leading exponent of baroque and classical violin playing, Ritchie performs, teaches, and lectures worldwide, most recently in Australia, Germany, Italy, Colombia, China, and Greece. He has served on the jury at the Leipzig International Bach Competition and is a frequent guest at Kloster Michaelstein, in Blankenburg, Germany, where he gives master classes in baroque and classical technique and interpretation. He has been a faculty member of the Accademia di Musica Antica in Bruneck (Südtirol) since 2000 and served for 10 years as artistic director of the Bloomington Early Music Festival. His ex-students are prominent members of the early music profession, some of them also occupying important teaching positions in the United States.
In June 2009, he received Early Music America's highest honor, the Howard Mayer Brown Award for Lifetime Achievement in Early Music. In April 2016, he was promoted by the Indiana University Board of Trustees to the rank of distinguished professor.
Ritchie's recordings include Vivaldi's Op.11 Violin Concertos with Christopher Hogwood and the Academy of Ancient Music (Oiseau Lyre); the Mozart piano quartets and the complete piano trios of Mozart and Schubert as a member of the Mozartean Players, and a CD of seventeenth-century music for three violins and continuo, Three Parts upon a Ground, with John Holloway, Andrew Manze, Nigel North, and John Toll, all for Harmonia Mundi USA. His recordings also include selected Concerti and Serenate of Francesco Antonio Bonporti, with Bloomington Baroque (Dorian Discovery) and two CDs of chamber music of Anton Wranitzky with Ensemble Cordia (Brilliant). His recording of Bach's Sonatas and Partitas for Solo Violin (Musica Omnia mo0503), released in January 2014, has received high critical praise.
Ritchie's book Before the Chinrest—a Violinist's Guide to the Mysteries of Pre-Chinrest Technique and Style, published by Indiana University Press, was released in June 2012. His second book, The Accompaniment in "Unaccompanied" Bach—Interpreting the Sonatas and Partitas for Solo Violin, also on IU Press, was published in 2016.