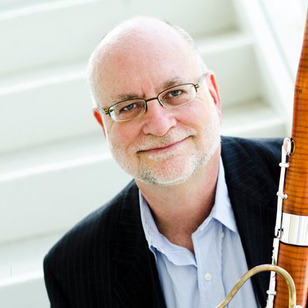 View full resolution
Phone:

812-855-5214

Email:

wludwig@indiana.edu
Department:

Bassoon, Woodwinds
East Studio Building, JS305

Biography
William Ludwig joined the faculty of the Indiana University Jacobs School of Music as professor of bassoon in August 2007. Prior to this appointment, he had been professor of bassoon at Louisiana State University (LSU) since 1985.
Since 2002, he has been in residence at the Brevard Music Center as principal bassoon of the Brevard Music Center Orchestra and artist-teacher faculty. His orchestral experience also includes principal bassoon with the Baton Rouge Symphony (1986-2007) and the Florida Orchestra (1980-85) and as an extra with the Los Angeles Philharmonic (2014). A noted chamber musician, he has performed in a wide variety of settings in the United States and Europe, including at the Prague Spring International Music Festival, Highlands (N.C.) Chamber Music Festival, and Hot Springs Music Festival, and with the Orpheus Chamber Orchestra, Timm Wind Quintet, and Ars Nova Wind Quintet. He was artist-in-residence at the State University of New York-Stony Brook Department of Music from 1989 to 1994 concurrently with his LSU appointment and taught at the University of South Florida from 1979 to 1985. He holds degrees from Louisiana State University and Yale School of Music, and had the privilege of studying with John Patterson, Sol Schoenbach, Leonard Sharrow, Bernard Garfield, and Arthur Weisberg.
Reviews of Ludwig's performances attest to his vibrant and communicative style: "Everything was played with fluency, virtuosity, and élan" (Kansas City Times). Response to his first solo CD of transcriptions included, "Indeed, with Ludwig's incredible technique, beautiful tone, and warm phrasing, they all sounded convincing in this new 'guise.' . . . This is a convincingly impressive album, the work of a master bassoonist" (The Double Reed). One reviewer described a concerto performance as "the kind of performance that reawakened one's imagination to the rich possibilities the instrument can have" (Baton Rouge Morning Advocate).
He is sought after to present master classes at many universities and colleges, including the Glenn Gould School in Toronto in November 2010. Other master classes given include at the University of Southern California, New England Conservatory, University of Oregon, Eastman, University of Georgia, University of Illinois, Florida State University, University of Michigan, Michigan State University, and Cincinnati College-Conservatory. One host professor commented, "Your class certainly was one of the best we have had. Your ability to get quick results from my students was impressive." He has been an invited performer to numerous International Double Reed Society (IDRS) Conferences in the United States and Europe.
In addition to his orchestral and chamber music performances at Brevard Music Center each summer, his most recent featured performances include the IU Wind Ensemble in November 2012 (Wilson, The Avatar), U.S. Coast Guard Band in March 2012 (McCarthy, Chamber Symphony No. 2), IDRS 2010 and 2014, IU New Music Ensemble in October 2010 (Hersant, eight pièces pour basson et ensemble), Indianapolis Chamber Orchestra as substitute principal bassoon since 2008, Chicago Chamber Musicians in April 2009, and the Cayenne Trio (Mark Ostoich, oboe, and Steven Cohen, clarinet). In March 2011, he premiered a new work for bassoon, viola, and double bass by Jacobs professor David Dzubay. Additionally, he organizes and performs chamber music with Jacobs School of Music woodwind faculty and students each semester.
Ludwig has received numerous prizes and grants, including various LSU professional development grants, the 1987 McMahon Competition's second prize, and the 1991 and 2001 Louisiana Artist Fellowship. He has transcribed works of Bach, Brahms, Beethoven, and Prokofiev for the bassoon. He has commissioned works for bassoon with orchestra, jazz trio, and interactive computer and for solo bassoon and oboe/bassoon duo. In 2015, he recorded a new solo album with Kay Kim, piano, and Mark Ostoich, oboe, including repertoire of Brahms, Previn, Berg, and Dubois. His other recordings include Bach for Bassoon with Mark Custom Records, Rhapsody in Bassoon with Mark Custom Records, a Brahms/Schumann/Prokofiev CD with Centaur Records, and a series of Reicha Wind Quintet recordings with the Ars Nova Wind Quintet for the Musical Heritage Society.
A committed and caring teacher and mentor, his students are successful in the world of performance and secondary and college teaching. Former students are or have been members of the Los Angeles Philharmonic, Milwaukee Symphony Orchestra, Memphis Symphony Orchestra, Civic Orchestra of Chicago, "The President's Own" Marine Band, U.S. Coast Guard Band, New Zealand Symphony Orchestra, and numerous regional orchestras. His former students are or have been on the faculty of University of Oregon, University of Georgia, James Madison University, Wichita State, Baylor University, University of Northern Iowa, and Dickinson State University.
Ludwig's students regularly participate in or have been accepted to summer festivals such as Tanglewood, Aspen, National Repertory Orchestra, National Orchestra Institute, Blossom Music Festival, Sarasota Music Festival, Brevard Music Center, and Chautauqua. Undergraduates have gone on to such graduate schools as the New England Conservatory, Rice University, Yale School of Music, University of Michigan, University of Texas-Austin, and Cincinnati College-Conservatory.