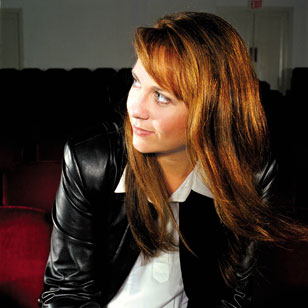 View full resolution
Phone:

812-855-4890

Email:

heimurph@indiana.edu
Department:

Voice
East Studio Building, JS229

Biography
A shimmering soprano with enchanting stage presence, Heidi Grant Murphy is one of the outstanding vocal talents of her generation. A native of Bellingham, Wash., she began vocal studies while attending Western Washington and the Indiana University Jacobs School of Music. Her graduate studies were interrupted when she was named a winner of the Metropolitan Opera National Council Auditions and engaged by Maestro James Levine to participate in the Metropolitan Opera's Lindemann Young Artist Development Program. Today, she has established a reputation not only for her radiant musicianship and impeccable vocal technique but also for her warm personality and generosity of spirit.
Murphy has appeared with many of the world's finest opera companies and symphony orchestras, working with many of the world's most esteemed conductors. The 2009-10 season marked the twentieth anniversary of Murphy's Metropolitan Opera debut, which led to numerous roles there
Murphy began the 2011-12 season in Orff's Carmina Burana with the Philadelphia Orchestra conducted by Giancarlo Guerrero at the Mann Center, a performance she will reprise at Bravo! Vail Valley Music Festival. In late July, she visited the Sun Valley Summer Symphony festival for a recital of Debussy, Boulanger, and Chausson with her husband, pianist Kevin Murphy. Orchestral engagements see Murphy with the San Diego Symphony for Beethoven's Symphony No. 9, The Iris Orchestra for Mozart, Copland, and Mahler, and with the Atlanta Symphony and Maestro Robert Spano for Bach's St. Matthew Passion.
Murphy's latest recording, Lullabies & Nightsongs, based on the children's book illustrated by Maurice Sendak, was released in September 2009 on Koch International. With Maestro Lorin Maazel and the New York Philharmonic, she appears on a live recording of Mahler IV and a separate recording of Augusta Read Thomas's Gathering Paradise on New World. Her other recordings include Roberto Sierra's Missa Latina with baritone Nathaniel Webster and the Milwaukee Symphony Orchestra on Naxos and an XM Satellite Radio compilation of Sondheim classics. For Koch records, Murphy has recorded Sueños de Amor, a disc of Latin love songs; The Gifts of Christmas; Times Like This; Dreamscape: Lullabies from around the world; and a recording of Sir John Tavener's To a Child Dancing in the Wind paired with Sir Harrison Birtwistle's Sappho Fragments.
The Delos label released her recording of Mahler's Symphonies No. 2 and 4 with Andrew Litton and the Dallas Symphony. Murphy's album on Arabesque Records, Clearings in the Sky, featuring Lili Boulanger and Rachmaninoff works, was praised by Gramophone Magazine. For the Deutsche Grammophon label, she has recorded Schumann's Das Paradies und die Peri with the Staatskapelle Dresden as well as Idomeneo (Ilia) and Le Nozze di Figaro (Barbarina), both conducted by James Levine. Additional recording projects include Vincent Youmans's Through theYears for PS Classics; Twilight and Innocence, a recital disc for Arabesque; Bach cantatas for Arabesque; Hansel and Gretel (Gretel) with Andreas Delfs and the Milwaukee Symphony Orchestra; and the Grammy-nominated Sweeney Todd (Johanna) for the New York Philharmonic's private label.
She has been a featured guest on NPR's Morning Edition and All Things Considered, A&E's Breakfast with the Arts, and BBC Radio 3.
Murphy currently resides in Bloomington, Ind., with her husband and their four children.