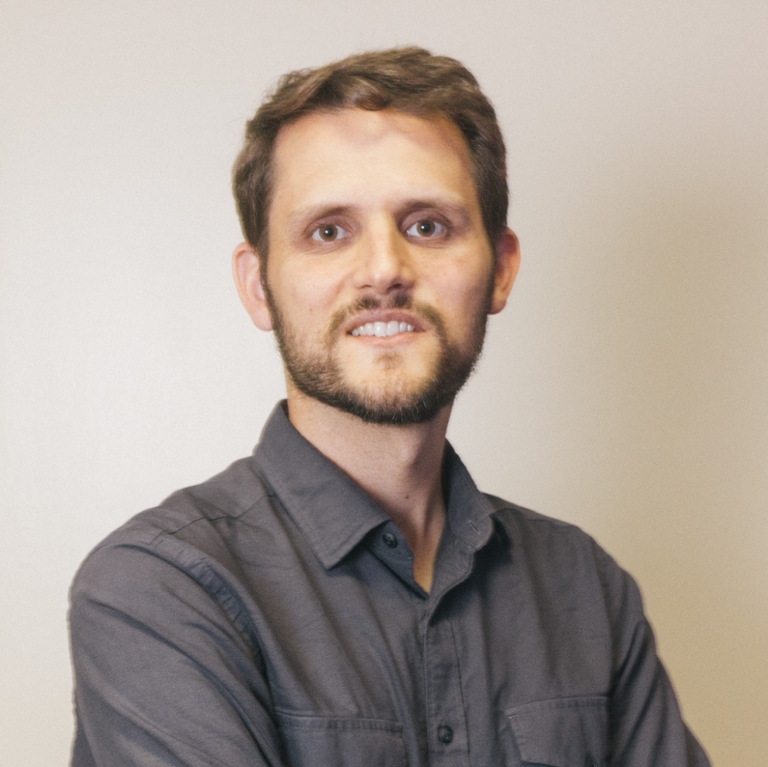 View full resolution
Phone:

812-855-4504

Email:

angoldm@iu.edu

Website:
Department:

Music Theory
Simon Music Center, M225B

Andrew Goldman is assistant professor of music in music theory at the Indiana University Jacobs School of Music and assistant professor of cognitive science at the IU College of Arts and Sciences.
A music theorist and cognitive scientist, Goldman earned a Ph.D. from the Centre for Music and Science at the University of Cambridge in 2015. He was in the inaugural cohort of Presidential Scholars in Society and Neuroscience at Columbia University and held a postdoctoral position with the Music, Cognition, and the Brain initiative at Western University before joining the faculty at IU.
Goldman's research considers how scientific methods can be used to learn about musical perception and cognition in principle, and he also designs and conducts behavioral and neuroscientific experiments with musicians. His research has primarily focused on improvisation in music and dance, but he has also worked on projects concerning the perception of musical form, embodiment in music, musical syntax, and corpus studies.
His work has been published in both music and psychology journals and has been presented at national and international conferences, including the Society for Music Theory, International Conference for Music Perception and Cognition, and American Psychological Association.
Also a pianist and composer, Goldman's original musical, Science! The Musical, provides an alternate platform to explore the worlds of music and science. Songs include "The Interdisciplinary Rag," "The Real World," "Publish or Perish," and more!
Selected Publications
Goldman, A., Harrison, P. M. C., Jackson, T., & Pearce, M. T. (2021). Reassessing Syntax-Related ERP Components Using Popular Music Chord Sequences: A Model-Based Approach. Music Perception, 39(2), 118–144. doi: https://doi.org/10.1525/mp.2021.39.2.118

Cross P., & Goldman A. (2021). Interval patterns are dependent on metrical position in jazz solos. Musicae Scientiae. doi: https://10.1177/10298649211033973
Goldman, A. (2016). Improvisation as a way of knowing. Music Theory Online, 22(4).
https://mtosmt.org/issues/mto.16.22.4/mto.16.22.4.goldman.html
Goldman, A., Jackson, T., & Sajda, P. (2020). Improvisation experience predicts how musicians categorize musical structures. Psychology of Music, 48(1), 18–34.
https://journals.sagepub.com/doi/full/10.1177/0305735618779444
Goldman, A. (2013). Towards a cognitive-scientific research program for improvisation: Theory and an experiment. Psychomusicology: Music, Mind, and Brain, 23(4), 210-221.
https://psycnet.apa.org/doiLanding?doi=10.1037%2Fpmu0000020
Goldman, A. (2019). Live coding helps to distinguish between embodied and propositional improvisation. Journal of New Music Research, 48(3), 281-293. doi: 10.1080/09298215.2019.1604762
https://www.tandfonline.com/doi/abs/10.1080/09298215.2019.1604762
Goldman, A., Thomas, C., & Sajda, P. (2019). Contact Improvisation Dance Practice Predicts Greater Mu Rhythm Desynchronization During Action Observation. Psychology of Aesthetics, Creativity, and the Arts. doi: http://dx.doi.org/10.1037/aca0000255
Phillips, K., Goldman, A., & Jackson, T. (2019). Hand Shape Familiarity Affects Guitarists' Perception of Sonic Congruence. Auditory Perception & Cognition, 2(1-2), 82-97. doi: 10.1080/25742442.2019.1684164
https://www.tandfonline.com/doi/abs/10.1080/25742442.2019.1684164
De Souza, J., Roy, A., & Goldman, A. (2020). Classical Rondos and Sonatas as Stylistic Categories. Music Perception, 37(5), 373–391.
https://online.ucpress.edu/mp/article-abstract/37/5/373/110589
Other Media
Science! The Musical (trailer)
https://vimeo.com/263736236
Science! The Musical (full production at Columbia University)
https://vimeo.com/265269188
2020 study on the neuroscience of improvisation
https://www.youtube.com/watch?v=To4y_YOYzsg