FOR IMMEDIATE RELEASE
Dec. 1, 2017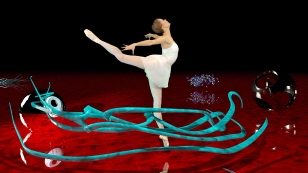 BLOOMINGTON, Ind. – A new work by Jacobs professor Jeffrey Hass will premiere Sunday as part of the Indiana University Jacobs School of Music's "Decade of Commissions." The series honors the 100th anniversary of the 1910 founding of the IU Department of Music and the centennial celebration of the School of Music's founding, in 1921.
Each member of the Jacobs Composition Department faculty will compose a substantial work to be premiered in successive years throughout the decade. Claude Baker's "From Noon to Starry Night" began the series in January 2011.
Hass' "Capsule," a nine-minute ballet-based video with 3D graphics and original computer music, will premiere during the free computer music and video recital presented by the IU Center for Electronic and Computer Music at 8 p.m. on Dec. 3 in Auer Hall. Hass is director of the center.
The concert will also include computer works by students Neil Cain, Will Kim, Christopher LaRosa, Luka Marinkovic and Kyle Rotolo, and guest Francesco Fabris, along with a video by John Gibson, associate director of the center.
"I tried to create an interesting juxtaposition of classical ballet with a fantastical synthetic visual and auditory environment," said Hass. "I hope viewers enjoy the beautiful dancing of senior ballet student Ryan McCreary, the choreography of Michael Vernon and the atmosphere created by 3D motion graphics combined with computer music. I enjoyed playing off combining the familiar with the highly abstract."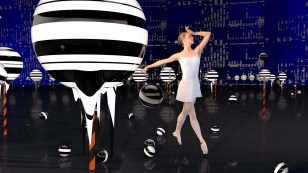 Hass did all of the production work—filming, designing and programming the graphics—in addition to creating the computer music score.
The dancing was filmed in the Musical Arts Center ballet studios, which were covered with green screen material. Using chroma key video techniques, everything but McCreary was removed from the video, allowing the creation of the artificial environment in which she could interact. The creation of the 3D motion graphics and computer music score were done at the Center for Electronic and Computer Music and Hass' home studio.
Hass explained that sections of 10 or 15 seconds of video might take five computers several days to calculate and render, depending on the complexity of the scene. The work took approximately 10 months to complete.

MEDIA CONTACT
Linda Cajigas
Assistant Director of Communications
IU Jacobs School of Music
812-856-3882 | lcajigas@indiana.edu