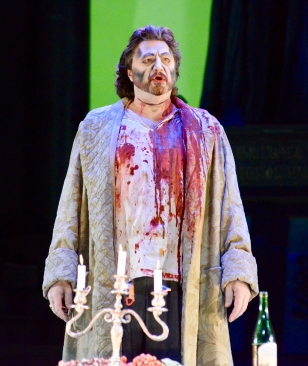 WHAT: "Don Giovanni" by W.A. Mozart
WHEN: Sept. 15-16, 22-23 at 7:30 p.m.
WHERE: Musical Arts Center, 101 N. Jordan Ave., IU Bloomington campus
TICKETS: Purchase tickets at the Musical Arts Center box office Monday-Friday, 11:30 a.m.-5:30 p.m., by phone at 812-855-7433 or online. A discounted price, through the box office, is available for all students.
VIDEO STREAMING: Sept. 15-16 only.
FOR IMMEDIATE RELEASE
Sept. 13, 2017

BLOOMINGTON, Ind. – Some revere him, and some revile him—but most agree that W.A. Mozart's masterwork about him, "Don Giovanni," is the consummate opera.
Indiana University Opera Theater will open its 2017-18 season with a brand-new production of this timeless classic at 7:30 p.m. this Friday, with additional performances Sept. 16, 22 and 23. The Sept. 15 and 16 performances will be video-streamed live via IUMusicLive!
This production about one of culture's most infamous seducers, and his punishment, marks stage director David Lefkowich's debut with IU Opera Theater. Jacobs professor Arthur Fagen will take the podium, while Jacobs staff members Mark Smith, Dana Tzvetkova and Patrick Mero designed the sets, costumes and lighting, respectively.
"Opera has so many moving parts, and it is truly a collaborative art form," said Lefkowich. "It takes everyone working together to create something magical onstage. The cast brings a freshness and vitality to this opera that is exciting to behold. The weeks that I have spent at IU have been tremendously rewarding for me both as an artist and an educator."
In a rarely seen twist, newly appointed Jacobs School faculty member Peter Volpe will sing the role of the Commendatore in all four performances, alongside the student cast. With an impressive career of more than three decades performing in the world's most prestigious opera and concert venues, he has sung the role approximately 60 times, in more than 10 productions, and loves working with the students at Jacobs.
"It is truly an honor as well as a treat for me," said Volpe. "They are a lot of fun to be around, and it is endearing to me to watch them grow and ask all the right questions. I am very happy to share with them all I have gleaned over the past 35 years or so of performing in this opera. It brings me much pleasure to see them develop and put their hearts into it."
Volpe studied at the Jacobs School of Music exclusively with Italian bass Nicola Rossi-Lemeni, becoming his protégé and graduating in 1985.
Volpe has sung the title role of "Don Giovanni" almost 300 times, making it the most prolifically performed role of his career.
"The Don requires much more finesse and a wide range of colors, and his recitatives are what really define him," explained Volpe. "The Commendatore requires just a big dark wall of sound, especially in the finale of Act II. It is a very demanding part for the basso. I sang the role of the Don with my bass voice but was lucky to have a technique honed well enough to sing this otherwise high role."
"Peter is terrific!" said Lefkowich. "Not only is he a superlative performer, but his artistry on stage and his theatrical expertise have taken the entire production up to another level. The students have benefited from his invaluable insight into the characters and his tremendous amount of stage experience. He is always willing to share his talents with everyone in the production. Jacobs is fortunate to add someone like Peter to an already incredible faculty."
Tickets for "Don Giovanni" may be purchased at the Musical Arts Center box office Monday-Friday, 11:30 a.m.-5:30 p.m., by phone at 812-855-7433 or online.
MEDIA CONTACT
Linda Cajigas
Assistant Director of Communications
IU Jacobs School of Music
812-856-3882 | lcajigas@indiana.edu