FOR IMMEDIATE RELEASE
Sept. 15, 2017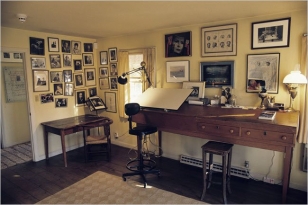 BLOOMINGTON, Ind. – Numerous items from the Indiana University Jacobs School of Music's Leonard Bernstein Collection will be featured in a traveling exhibit as part of a worldwide celebration of the icon's 100th birthday, Aug. 25, 2018. Items from the Jacobs collection comprise the largest part of the display.
The exhibit, "Leonard Bernstein at 100," sponsored by the Grammy Museum at L.A. Live, will open Sept. 22 at the Kennedy Center in Washington, D.C., before touring for two years to major cities across the United States. It will be the most comprehensive retrospective of Bernstein's life and career ever staged in a museum setting.
The Jacobs School of Music received the priceless gift of the contents of the legend's Fairfield, Connecticut, composing studio from Bernstein's family in March 2009. Among the more precious items are 39 Grammy nomination plaques, the desk where he wrote "West Side Story" and a conducting stool from the Vienna Philharmonic that is said to have been used by Johannes Brahms.
Philip Ponella, Wennerstrom-Phillips Music Library Director, William and Gayle Cook Music Library, and director of Music Information Technology Services, Jacobs School of Music, who curates the Jacobs collection, said it has now expanded to approximately 2,100 items, which are catalogued with IU Archives.
"When we were approached by the Bernstein family, how could we say no? It is an incredible honor," said Ponella. "Leonard Bernstein's popularity is a result of his multi-dimensional life, doing many things at an exceptionally high level. He touched many aspects of people's lives in different venues.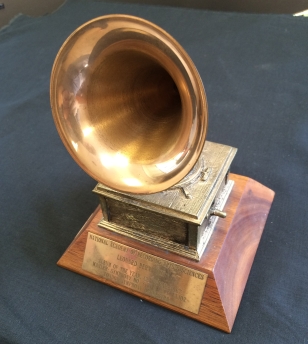 "And the fact that Indiana University has the resources to provide all that is necessary to properly care for a collection like this shows that we have not only some of the best performers in the world, but some of the best academics as well."
The Jacobs School of Music is currently undergoing renovations to put the best of the collection on public display in Merrill Hall. The more commonplace items will also be available to anyone who is interested in viewing and being inspired by them.
While the size of the Bernstein Room will be approximately that of the original Fairfield studio, it will not be a recreation of it, but rather a working studio where guest artists and visiting faculty members can work with students.
IU Opera Theater's new production of Bernstein's "West Side Story" in April is also part of the centennial celebration and will feature a small display of items in the lobby of the Musical Arts Center.
Early connection between Bernstein and the Jacobs School of Music
Bernstein's history with the Jacobs School of Music is well documented. Jacobs Dean Emeritus Charles Webb received a call from Bernstein's manager, the late Harry Kraut, in 1976, inviting the school to participate in a one-month tour of Bernstein's opera "Trouble in Tahiti" in Israel to celebrate the 30th anniversary of his first conducting there.
"Bernstein suggested using performers who were the approximate ages of the characters in the opera—very young," said Webb. "Harry had heard about our music program at IU and wanted both singers and musicians to take the production on a tour to Israel. When they saw it performed in Bloomington, they approved, and it embarked on the 12-15 performance tour."
Several years later, Webb received another call from Kraut. Bernstein wanted to be in residence for two months on the campus of a major music school in order to compose at night and have students workshop his music the next day. He arrived in January 1982 with Kraut, his librettist for his opera "A Quiet Place," Stephen Wadsworth, a cook and a chauffeur, and stayed in a condo on Lake Monroe.
"I was always fascinated by the way he worked and communicated with students," said Webb. "I would just slip in to rehearsals and sit down. Once he was working with a girl who was singing the lead in the new opera, 'A Quiet Place.' He stopped her all of sudden and said, 'Have you ever sung the role of Mimi?' [from "La Bohème"], and she said no. He went to the piano with no score, nothing, and did Mimi's entrance with the music. He went on for 10 minutes playing and singing all the parts of the opera. We were all astounded. That encapsulated the enormity of his talent and the fact that he could do so many different things so, so well. He was truly a genius, and his was truly an amazing life."
Listen to the Through the Gates at IU interview with Ponella and Webb.
MEDIA CONTACT
Linda Cajigas
Assistant Director of Communications
IU Jacobs School of Music
812-856-3882 | lcajigas@indiana.edu