WHAT: IU Vocal Jazz Ensembles Spring Concert with Kurt Elling
WHEN: 8 p.m. Tuesday, April 5, 2016
WHERE:Buskirk-Chumley Theater, 114 E. Kirkwood Ave., Bloomington
TICKETS: Reserved seating tickets available from the Buskirk-Chumley box office, 812-323-3020. Regular $15, Students with ID $10.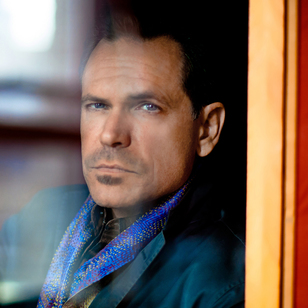 FOR IMMEDIATE RELEASE
March 24, 2016
BLOOMINGTON, Ind. – The Indiana University Vocal Jazz Ensembles are pleased to welcome Grammy-winning jazz vocalist Kurt Elling to their Spring Concert at 8 p.m. on Tuesday, April 5, at the Buskirk-Chumley Theater in downtown Bloomington.
The DownBeat Award-winning IU Vocal Jazz Ensemble and IUnison, each directed by Jacobs faculty member Duane Davis, will perform a variety of standards from the Great American Songbook then join Kurt Elling in several selections from his recent recordings. The concert will include "April in Paris," "Smoke Gets in Your Eyes," "Nature Boy" and many other jazz favorites.
"Kurt Elling affords our vocal jazz ensemble students the opportunity to have an 'up close and personal' musical experience with one of the giants in the jazz field," said Davis. "This concert is a continuation of jazz greats with whom our students have shared the stage, including Darmon Meader, Janis Siegel and Bobby McFerrin. We are all thrilled to be able to perform in such stellar company!"
Elling is among the world's foremost jazz vocalists, winning the DownBeat Critics Poll for 14 consecutive years and being named Male Singer of the Year by the Jazz Journalists Association on eight occasions. An international jazz award winner, he has been nominated for a Grammy 12 times, with his "Dedicated to You" release winning the Best Jazz Vocal Album gramophone in 2009.
Elling's rich baritone spans four octaves and features both astonishing technical mastery and emotional depth. His repertoire includes original compositions and modern interpretations of standards, all of which are springboards for inspired improvisation, scatting, spoken word and poetry.
The New York Times declared, "Elling is the standout male vocalist of our time." The Washington Post added, "Since the mid-1990s, no singer in jazz has been as daring, dynamic or interesting as Kurt Elling. With his soaring vocal flights, his edgy lyrics and sense of being on a musical mission, he has come to embody the creative spirit in jazz."
Elling has been an artist-in-residence for the Singapore and Monterey jazz festivals, and the Obama Administration's first state dinner featured him in a command performance.
Learn more about Elling.