FOR IMMEDIATE RELEASE
June 26, 2015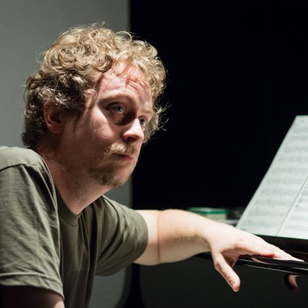 BLOOMINGTON, Ind. – Indiana University Jacobs School of Music alumnus Matt Mitchell is the recipient of a 2015 Doris Duke Impact Award from the Doris Duke Charitable Foundation. A jazz pianist and composer, he joins 19 other recipients this year in receiving $80,000 each.
Since April 2014, 40 artists in the fields of jazz, dance and theatre have received Impact Awards, which are based on nominations submitted by fellow artists.
"Matt Mitchell was my jazz piano student from 1993 to 1996 here at the Indiana University Jacobs School of Music," said Luke Gillespie, professor of jazz studies. "He was one of the most precocious students I've ever taught. My colleagues and I want to personally congratulate him on receiving this wonderful award."
Each Doris Duke Impact Award includes an unrestricted, multi-year cash grant of $60,000 plus as much as $10,000 more in targeted support for audience development and as much as $10,000 more for personal reserves or creative exploration during what are usually retirement years for most Americans. The Impact Award is one of two awards in the Doris Duke Performing Artist Awards program.
"The environment during my time at IU was one which fostered a healthy degree of exploration alongside the high level of academic offerings," said Mitchell. "I still have a great deal of fond memories of my time there. 
"I'm still pondering how to best avail myself of the opportunities the Doris Duke Impact Award will afford me, but I can say that my eventual plans will involve some combination of developing and documenting new music for new ensembles, saving for retirement and audience outreach and expansion. I'm extremely honored and gratified to have been chosen for an Impact Award, especially among a cohort of stellar fellow musicians which includes both current colleagues and musicians I've been listening to since my time at IU."
Mitchell has a special interest in the intersections of various strains of acoustic, electric, composed and improvised new music. His debut album, "Fiction" (Pi, 2013), was critically acclaimed and on numerous 2013 album-of-the-year lists. It features 15 of his compositions performed in duo with percussionist Ches Smith.
Other ensembles Mitchell leads or co-leads include the Matt Mitchell Quartet with Chris Speed, Chris Tordini and Dan Weiss; Normal Remarkable Persons with Tim Berne, Herb Robertson, Shane Endsley, Travis Laplante, Tyshawn Sorey, Ches Smith and Dan Weiss; the duo Fourth Floor with Dan Weiss and Snark Horse with Kate Gentile.
He is a member of Tim Berne's Snakeoil, the Dave Douglas Quintet, John Hollenbeck's Large Ensemble, Rudresh Mahanthappa's Bird Calls, the Darius Jones Quartet, Dan Weiss's Fourteen, the Kate Gentile Trio, the Ben Perowsky Quartet, Mario Pavone's Blue Dialect Trio, the Anna Webber Trio, Ches Smith's We All Break, Michael Attias' Spun Tree and Quinsin Nachoff's Flux.
Musicians with whom Mitchell performs and has performed include John Hollenbeck's Claudia Quintet + 1, Rudresh Mahanthappa and Bunky Green's Apex, Rez Abbasi's Invocation, Chris Lightcap's Bigmouth, Lee Konitz, Kenny Wheeler, Ralph Alessi, Dave King, Amir ElSaffar, Marc Ducret, David Torn, Vernon Reid, Clarence Penn and Penn Station, Jonathan Finlayson, Linda Oh, Rudy Royston, Allison Miller, Donny McCaslin, Jamie Baum, Brad Shepik, Bobby Zankel, John Swana and Darcy James Argue's Secret Society.
Mitchell has taught extensively with the Brooklyn-based School for Improvisational Music as well as at the New School and New York University. He is a 2012 recipient of a Pew Fellowship from the Pew Center for Arts and Heritage.
His first quartet album, "Vista Accumulation" (Pi), will be released in October 2015. He can be most recently heard on Snakeoil's "You've Been Watching Me" (ECM, 2015) and will be in residence at The Stone in New York City in March 2016.